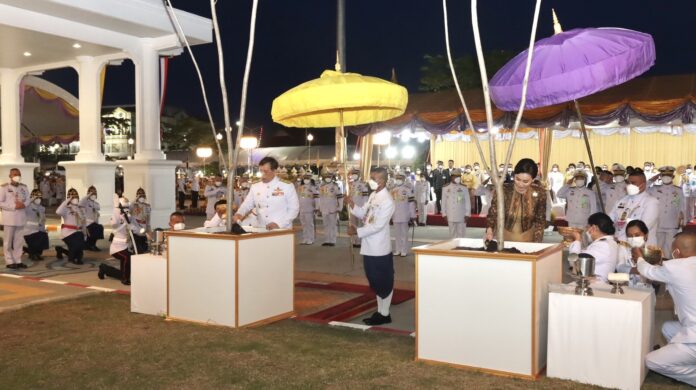 Hello, Phuket Express Readers and Supporters!
The following is our weekly feature in which we highlight the top local stories in our area of Phuket from the past week. The number of stories differ from week to week.
These are chosen and curated by our editorial team and are designed for our readers to get a quick "catch-up" of important stories they may have missed. We publish many stories daily and it is easy to lose track of important events or changes in our area. We do national recaps in a separate article, this is only the top local stories in Phuket province.
They are in no particular order of importance but roughly in order of publishing. These are from Monday, June 12th, 2023, to Sunday, June 18th, 2023.
Let's get started and see what the top local stories were!
The King and the Queen were greeting and waving hands along the route in the royal car which was driving slowly to allow people to pay respect. Their majesties returned to Phuket International Airport after the ceremony.
2. A local taxi driver allegedly attacked and jumped onto a mobile application taxi car with a foreign passenger inside in the Thalang district.
Two local taxi drivers have been charged with damage to property and threatening behaviour after they hit and jumped onto a 'mobile application' taxi car while foreign passengers were inside.
It seems there are new taxi issues every day in Phuket.
3. A suspect was arrested after he allegedly stole a car from a foreigner in Phuket.
A suspect who was arrested after he stole a car from a Finnish man in Phuket was an illegal taxi driver who had just been released from a prison.
The Finnish man was extremely grateful for the return of his vehicle.
4. More than 6,000 patients have been suffering from diarrhea in Phuket in a week after many of them have become infected with a Norovirus, said the Phuket Provincial Health Office (PPHO).
Ice and water factory test results show NO contamination with the Norovirus after more than 6,000 patients suffered from diarrhea in Phuket in a week with many of them having tested positive for the virus.
The cause is still unknown.
5. A Belgian man has shot himself to death at a shooting range in Rawai.
Police found that the foreigner stayed in Phuket and was an ex-pat as he had a motorbike driving license and other local documentation.
6. The Department of Special Investigation (DSI) raided an accounting and law company in Chalong for allegedly being an illegal network nominee for foreigners with a hundred million baht of total damages.
The future problem is, lands will finally belong to foreigners, which is strictly against the law in Thailand and what sparked this raid.
That's all for this week, as always thanks for your support!