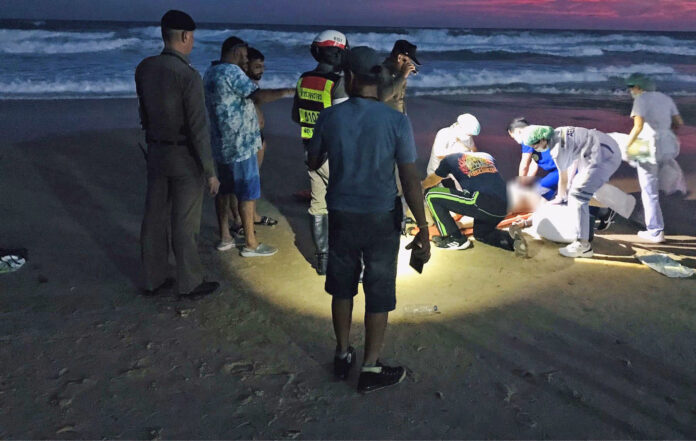 Phuket –
Two Indian tourists drowned at Karon Beach, Mueang Phuket, after allegedly ignoring red flags and no swimming warnings.
Emergency responders were notified of the incident at 6:45 P.M. at Karon Beach on Tuesday (August 1st). They and the Phuket Express arrived at the beach with red flags which meant no swimming allowed placed along the beach.
Two male Indian tourists had already been pulled up from the surf onto the beach by lifeguards before rescue workers had arrived. Both men had no pulse and were rushed to nearby hospitals where they were both later pronounced dead. One of them was identified by the Karon Police as Mr. SAGER JVGTAWAT, 31, with the other man not yet publicly identified by relevant officials.
Unidentified Indian friends of the two men told Karon police that there were in total eight of them who went to visit the area. Four of them went swimming in the sea despite ample warnings to stay out of the water. All four were pulled out to sea by strong waves. They were taken back to the beach by lifeguards but two of the men tragically drowned.
Similar incidents recently:
A male tourist from Senegal went missing after he went swimming in the sea at Freedom Beach in Karon, Phuket.
The body of a missing Senegalese tourist has washed ashore in the Karon sub-district of Phuket today after he went missing in the rough sea on July 28th.
A Thai man has been reported missing after he went swimming in the sea ignoring red flags at a beach in Thalang.
A body of a Thai man was found on large rocks at a beach in the Thalang district.