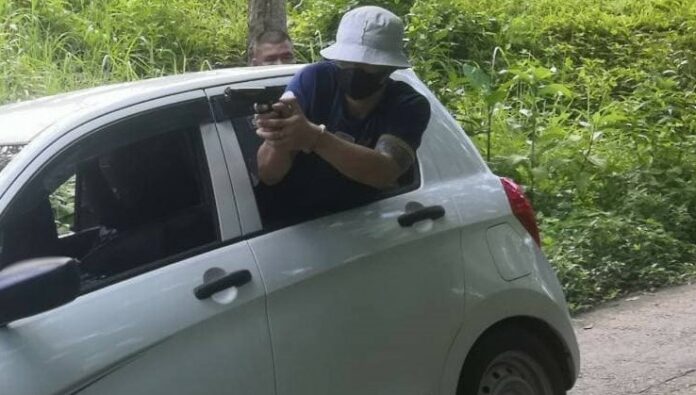 Patong –
A suspect was arrested after two young men were injured after a firearms-related shooting incident in Patong.
Our previous story:
Two parties were talking about an undisclosed personal dispute before one of the parties, who was in a sedan, opened fire onto the two injured men before they sped away in their vehicle on Thursday in the early morning (August 3rd) near a junction on the Petch Kood Road.
Now for the update:
The Patong Police told the Phuket Express that on Saturday (August 5th) they arrested a man identified only as Mr. Nattapong, 34, and a re-enactment of the shooting was held.
Nattapong is facing charges of intent to murder, illegal possession of firearms and ammunition, carrying a gun and ammunition in public without a reason, and shooting in public.
The motive for the incident and nature of the dispute between the two parties was not revealed to the Thai media.
Nattapong remains in police custody as of press time. It is unknown if he has retained the services of an attorney however has reportedly admitted to the crime, thus agreeing to the re-enactment.