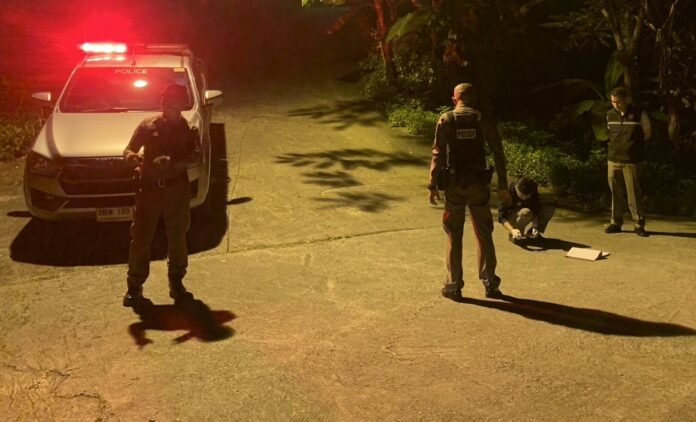 Patong –
Two people have been injured after a firearms-related shooting incident in Patong.
Lieutenant Colonel Chompunuch Anantayakun of the Patong Police told the Phuket Express that they were notified of the incident on Thursday in the early morning (August 3rd) near a junction on the Petch Kood Road.
Patong police and rescue teams arrived at the scene to find fresh blood stains on the road. Two people injured from gunshots had already been taken to a local hospital who were identified only as Mr. Doe, 21, and Mr. Dream, 20. Mr. Doe had injured his right leg and Mr. Dream has injured his finger. At the scene, Patong police also found a spent cartridge and a bullet.
Lieutenant Colonel Chompunuch told the Phuket Express that there were two parties talking about an undisclosed personal dispute before one of the parties, who was in a sedan, opened fire onto the two injured men before they sped away in their vehicle.
The Patong Police have already identified the suspect (s) who opened fire in public and are pursuing leads to bring them to justice. The victims are reportedly recovering from their wounds at a local hospital as of press time.