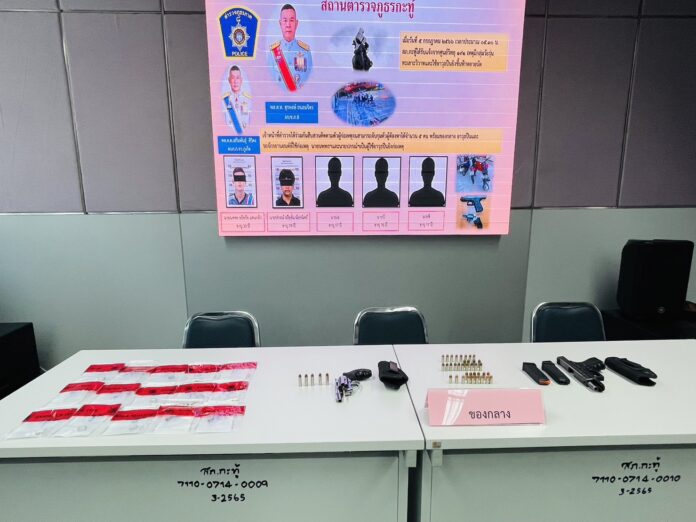 Kathu –
Five suspects were arrested after fifteen-gun shots were fired in broad daylight in Kathu in a residential area.
Our previous story:
Fifteen bullet cartridges were found in front of a rental room complex. No injuries or deaths were reported.
Now for the update:
The Kathu Police told the Phuket Express on Thursday (July 6th) that they arrested five suspects including three teenagers under 18. Those arrested were identified only as Mr. Nopphon 'Gor' Saen Kla, 30, Mr. Pakorn 'Han' Noinit, 29, Mr. Eak, 17, Mr. San, 16 and Mr. Chai, 17.
Seized from Mr. Nopphon was a Glock 19 handgun and 37 bullets. Seized from Pakorn were a Revolver, a .38 Special Undercover handgun and five bullets.
They are facing charges of illegal possession of firearms and ammunition and carrying a gun in public without permission. Nopphon and Pakorn are facing additional charges of opening fire in public without proper reason.
The shooting came after the three teenagers were arguing with another party in a road rage incident. They claimed that the other party attacked them first before they called Nopphon and Pakorn who had guns to join them.
Police found that Nopphon was the same person who fired bullets into a lottery shop last month.
A lottery shop in Phuket Town has been threatened by an unidentified gunman firing bullets through the shop window in broad daylight.