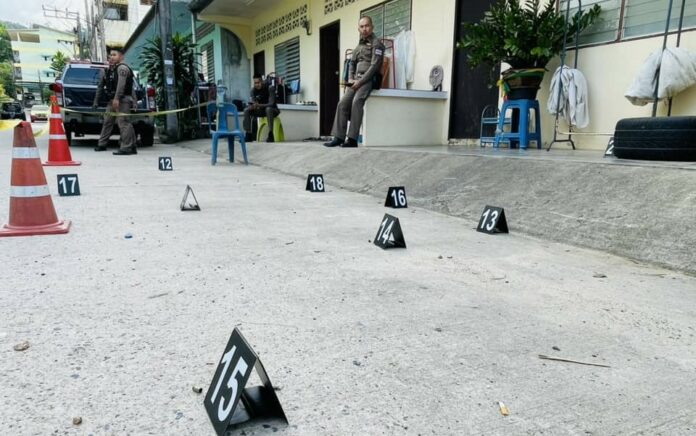 Kathu, Phuket –
Fifteen-gun shots were fired in broad daylight after an argument between Thais and a man from Myanmar in Kathu.
The Kathu Police told the Phuket Express that they were notified of the incident at 6:30 A.M. on Wednesday morning (July 5th) in front of rental rooms in Soi Suea Lueang. They and the Phuket Express quickly arrived at the scene.
Fifteen bullet cartridges were found in front of the rental room complex. No injuries or deaths were reported. Many local residents nearby were afraid to come outside after the incident.
Witnesses told Kathu police that there was an argument between multiple Thais and a Myanmar man nearby. The Myanmar man ran into the Soi to hide at a work camp near the scene of the argument with a group of Thais chasing after him. Workers in the camp told the Thais they had not seen the Myanmar man before the Thais got angry and opened fire with firearms up into the air. The Thais then fled the area.
The Kathu Police are continuing their investigation to find the people who fired the gunshots in public as well as determine what the argument was regarding.