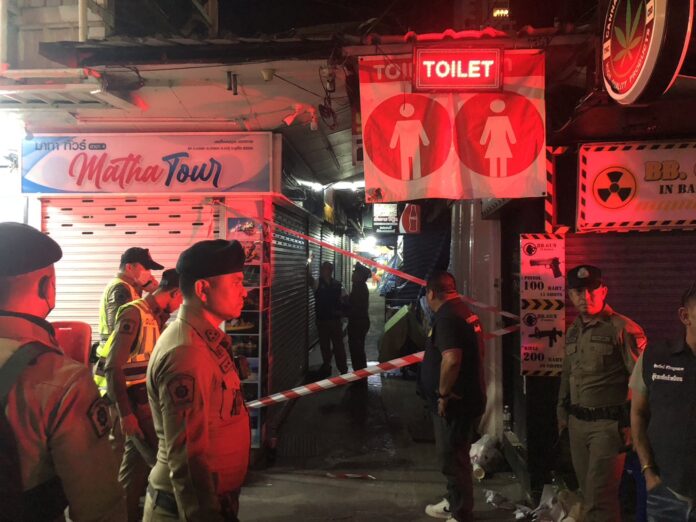 Patong —
In a shocking incident that occurred early in the morning today, a former bar worker went on a shooting rampage in the parking lot of Soi Lao near Bang La Road, Patong, and injured three people.
Armed with a .38 caliber Smith & Wesson revolver, the assailant, identified by police only as Mr. Jess (alias), fired five rounds, leaving three individuals injured. The brazen shooting took place at 2:25 AM today, November 19th, prompting urgent responses from Patong police and rescue workers and causing the nearby bar district to be completely shut down.
At the incident scene in the Kathu district, authorities found three victims, all Thai males, who had sustained gunshot wounds to their limbs. One victim also suffered minor injuries from a knife attack. All three, who were not immediately identified, were promptly transported to Patong Hospital and Vachira Phuket Hospital for treatment.
Mr. Jess, the alleged gunman, was apprehended by the police on the scene and taken to the Patong Police Station for further questioning.
According to Pol. Col. Sujin Nilbodee, chief of the Patong Police Station, Mr. Jess, who is currently unemployed, had a history of conflicts with the victims dating back to the past year. He used to be a worker at an unknown entertainment venue in Soi Bang La and had developed a rivalry with the injured parties.
After disappearing for some time, he returned to the area and encountered his old rivals in the parking lot. A physical altercation ensued, which escalated when Mr. Jess resorted to using his firearm. Pol. Col. Sujin stated that Mr. Jess also caused injuries to innocent bar workers in the vicinity from his gunfire.
Initially, Patong police will meet to request additional forces from Region 8 Police to ensure the safety of tourists as the high tourism season is approaching. Mr. Jess, meanwhile, is facing legal action as of press time.