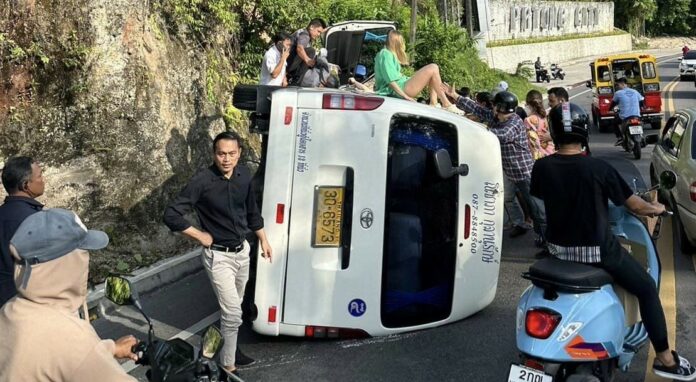 Patong –
Two foreign passengers were injured after a minivan was crashed into by a hit and run pickup truck before overturning on Patong Hill.
The Patong Police were notified of the accident on Thursday morning (November 9th) on the Patong – Kathu Road on Patong Hill near the Tiger Shrine.
They arrived at the scene to find the overturned minivan in the road. Seven foreign passengers had climbed out from the minivan. Two of them had minor injuries.
Nearby rescue teams found another damaged black minivan with no injured passengers.
CCTV footage near the scene shows that a white pickup truck tried to overtake the minivan at the curve before crashing into the white minivan and the black minivan on the opposite lane. The white minivan was overturned. The pickup truck did not stop. Police are hunting for the pickup truck driver as of press time.