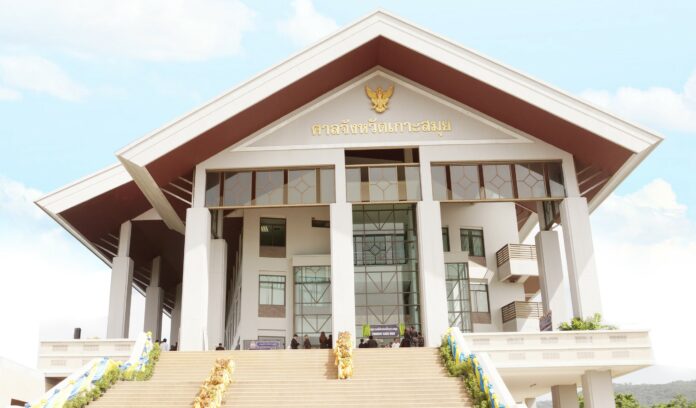 Pha Ngan Island, Surat Thani-
A Spanish chef and celebrity influencer was officially charged with murder after he dismembered a Columbian surgeon, reportedly his lover, on Pha Ngan Island in August of this year.
Our previous stories:
A human pelvis with intestines still attached was found dumped in a garbage landfill on Pha Ngan Island in Surat Thani.
Thai police have arrested a Spanish suspect for allegedly murdering and dismembering his Colombian male partner on the southern tourist island of Pha Ngan, Surat Thani.
The forensic team has confirmed that the body parts found at a landfill on Thailand's southern tourist island of Pha Ngan, Surat Thani, belong to a Colombian man believed to have been murdered by his Spanish lover.
Now for the update:
On Thursday (October 26th) Mr. Daniel Jeronimo Sancho Bronchalo, 29, Spanish national, was taken from the Samui District Prison to the Koh Samui Provincial Court by officers. However, reporters were not allowed to take photos of the suspect while he was getting out of the vehicle. His father, who is a well-known Spanish actor, Rodolfo Sancho Aguirre, was at the court for the hearing.
Public prosecutors filed a lawsuit against the defendant Mr. Daniel over intent to murder and moving or destroying bodies or parts of a body to conceal a death.
However Mr. Daniel requested the judge for a Spanish interpreter for the remainder of his trial. He said he is not good in English and he is worried about some error of the English language and/or a misunderstanding. The Koh Samui Provincial Court has postponed the hearing to November 13th of next month.
TPN Media notes that regardless of a translator provided the trial is held in the Thai language as is all corresponding paperwork.
This particular case has driven intense social media interest in Spain due to the high profile of the suspect.