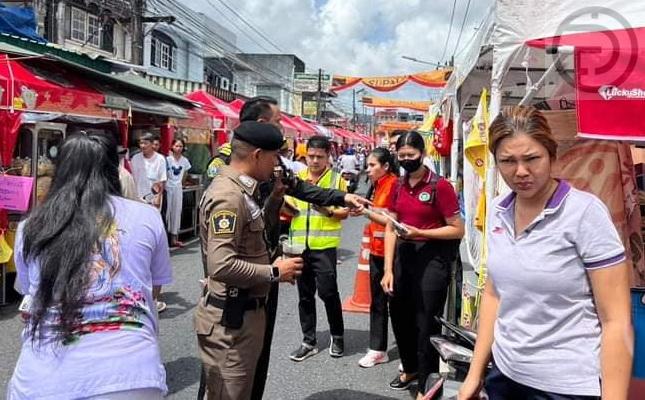 Phuket –
A team from the Phuket Road Safety Center inspected the scene after a sedan crashed into a vegetarian festival area in Phuket Town leaving one dead and many injured this past weekend.
Our previous stories:
One person was pronounced dead at the scene while at least seven people have been injured after a sedan plunged into the vegetarian festival area in Phuket Town just days before the official launch of the festival.
A female Mercedes Benz sedan driver is facing charges of reckless driving causing death after crashing into a famous vegetarian festival area in Phuket Town just days before the official start of the event.
Now for the update:
On Monday (October 16th) the safety inspection team told the Phuket Express that there was one death and in total ten people were injured in the accident last week. They inspected the area to find a solution for preventing more road accidents in similar areas.
The Phuket Express noted that there are many other roads that are being set up with food stalls for the vegetarian festival such as on Yaowarad Road in Samkong Rassada near the Lim Hu Tai Su Chinese Shrine, on Phuket Road in Bang Neow near the Bang Neow Shrine, and on Pattaya Road near the In Lor Rong near the Sui Bon Tong Chinese Shrine in Phuket Town.
However the three roads are not one-way roads like the Ranong Road where the accident happened.
The suspect in the fatal accident reportedly remains facing multiple legal charges but still claims she had a medical emergency in terms of a dizzy spell which was the cause of the tragic event.
The fact the road was open to traffic despite dozens of food stalls and many pedestrians buying goods was strongly criticized on social media, notes The Phuket Express. City officials pointed out that the event hadn't officially begun yet in their defense and that the road was scheduled to be closed during the normal festival hours.