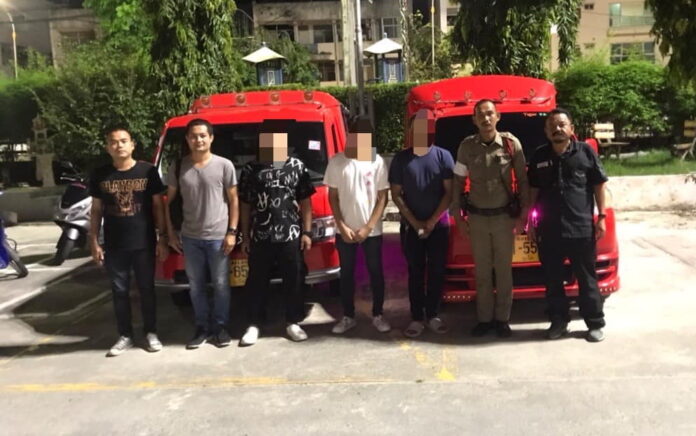 Patong –
Three Tuk Tuk taxi drivers were charged with bodily assault after attacking a Saudi Arabian tourist in Patong over a taxi fee dispute.
The Patong Police told the Phuket Express that a video clip of Tuk Tuk taxi drivers attacking a foreign tourist in front of a hotel on the Ratch Uthit 200 Pi Road in Patong had gone viral on social media on Sunday (October 8th).
The Patong Police checked CCTV footage nearby and initially identified one Tuk Tuk taxi driver only as Mr. Anusorn, 29. Two other Tuk Tuk taxi drivers who were involved in the attack were later identified as Mr. Apisit, 26, and Mr. Nussarunlor, 28.
On Sunday morning (October 8th) at 6:15 A.M., Mr. Anusorn picked up the male Saudi Arabian tourist from Soi Saen Sabai on the Ratch Uthit 200 Pi Road. They were heading to the Kalim Circle in Patong and had agreed on a 200 baht taxi fee.
When they arrived at the supposed destination, however, the tourist said the area was not where he wanted to go. He said his destination was at a hotel on the Ratch Uthit 200 Pi Road. The Tuk Tuk driver took him to the second place but when they arrived at the correct destination, the driver told the tourist due to the extra distance the price for the taxi fare was now 400 baht. The Saudi Arabian tourist offered to compromise at 300 baht but Anusorn refused and a furious verbal argument began.
Mr. Anusorn then called his two nearby Tuk Tuk taxi friends to help with the negotiation. The three taxi drivers argued with the Saudia Arabian man before the tourist pulled the Tuk Tuk taxi's key out of the ignition for an unknown reason and tried to walk away. At this point, the three Tuk Tuk drivers physically attacked the tourist.
At this stage, the three Tuk Tuk taxi drivers are facing charges of bodily assault and have reportedly admitted to the crime. The name and identity of the Saudi Arabian tourist was withheld by law enforcement.
Patong police said they will prosecute the three taxi drivers to the fullest extent of the law, mentioning that the incident hurts the world class tourism image of Patong.
The original version of this article appeared on our sister website, The Phuket Express, owned by our parent company TPN media.