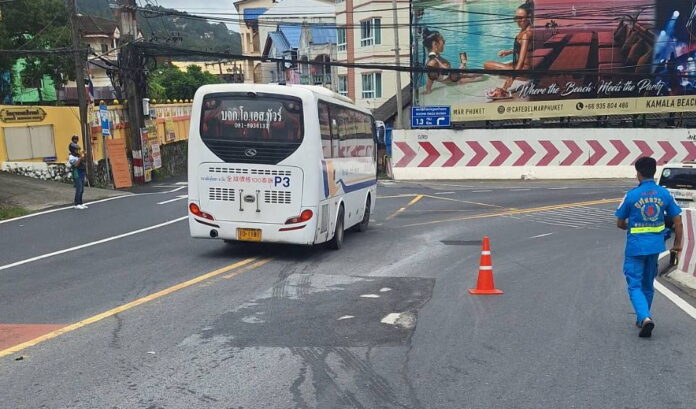 Patong –
A minibus with about 30 Chinese passengers suffered from what the driver said was a brake failure on Patong Hill. The resulting incident led to the tourists being delayed from reaching their destination and having to be transported via other vehicles.
The Patong Traffic Police were notified of the incident on Friday (October 6th) on the Phra Baramee Road near the Suwan Khiriwong Temple (Patong Temple). They arrived at the scene to find a tour minibus on the hill. About 30 Chinese passengers had been asked to get off the minibus and were standing around the area in a state of confusion and anxiety.
The unidentified driver told The Phuket Express that he was taking the Chinese passengers from the Phuket International Airport to a hotel in Patong. However, the bus had a sudden brake failure, according to him. He decided to steer the bus to the side of the road before using rocks to lock the wheels to prevent the minibus from moving backward.
The Chinese passengers were later transported to their hotels via other vehicles. Mechanics were called to fix the minibus.
It was unclear if an investigation would take place into the incident by the bus company.