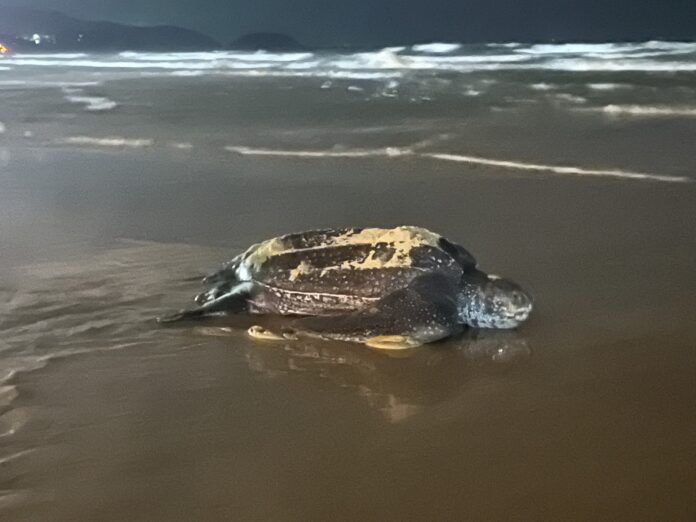 Karon –
A Leatherback Sea turtle mother finally laid 129 eggs on Karon Beach.
Our previous story:
A leatherback sea turtle mother attempted to lay eggs near a hotel on Karon Beach.
Now, Our Update:
The Department of Marine and Coastal Resources (DMCR) Phuket Office were notified by locals of the incident on Thursday night (July 27th). A leatherback sea turtle finally laid eggs on Karon beach at the same area that she had previously attempted to lay eggs.
Mr. Suthep Juealaong from the DMCR told the Phuket Express that it took more than one hour for the turtle to lay the eggs. The DMCR officials found in total 129 eggs with 92 of them being fertile eggs.
The leatherback sea turtle mother is about 35-years-old. She returned back to the beach for the second time after two days. The first time the turtle did not lay eggs but dug three nests.
The eggs have been relocated due to concern of damage from the weather. It will take about two months for the baby sea turtles to hatch. The area will be monitored for about half a month in case the mother returns to lay eggs again.
Some media has reported this was the first sea turtle lying eggs in this area in about two decades.