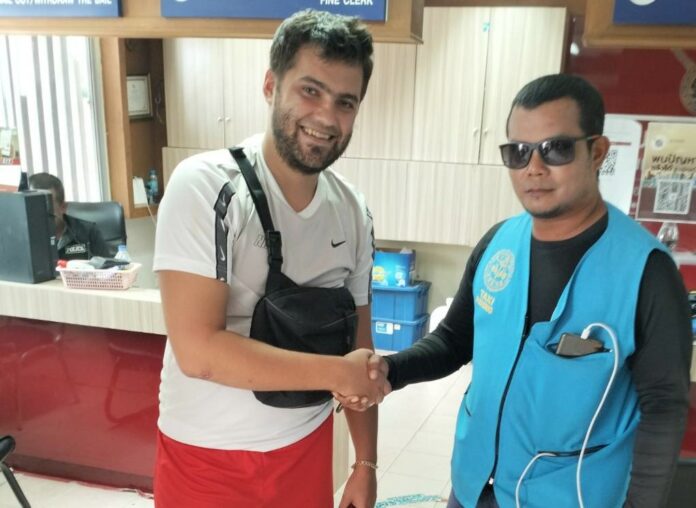 Patong –
A taxi rider damaged a fence after he got angry with a foreign passenger over an argument about a 44 baht fare difference in Patong.
A video clip went viral on social media on Sunday (July 16th). The video clip appeared to show a male taxi rider arguing and trying to attack his unidentified male foreign passenger in front of a house. The taxi driver kicks a fence in front of the house before giving the passenger the middle finger and then went away.
The Patong Police told the Phuket Express that the foreigner had booked the taxi motorbike via the Grab application for 56 baht. When they arrived at the destination, the taxi motorbike rider wanted 100 baht, stating that the fare in the application was too small. The foreign passenger, however, refused to pay 100 baht, stating it was too expensive. The taxi motorbike rider became enraged and kicked at the fence nearby before giving the passenger the middle finger.
The taxi rider was later identified by police as Mr. Jamnong Salee. He later presented himself to the Patong Police Station after seeing himself on social media and admitted to losing his cool to the police and apologized to the foreigner, who had also been brought to the police station to file a report over the incident. The foreigner's name and nationality was not released.
Mr. Jamnong agreed to pay the house owner, who was also not identified, 1000 Baht for the damaged fence. The cover photo was taken after both the foreign passenger and Jamnong apologized to each other.