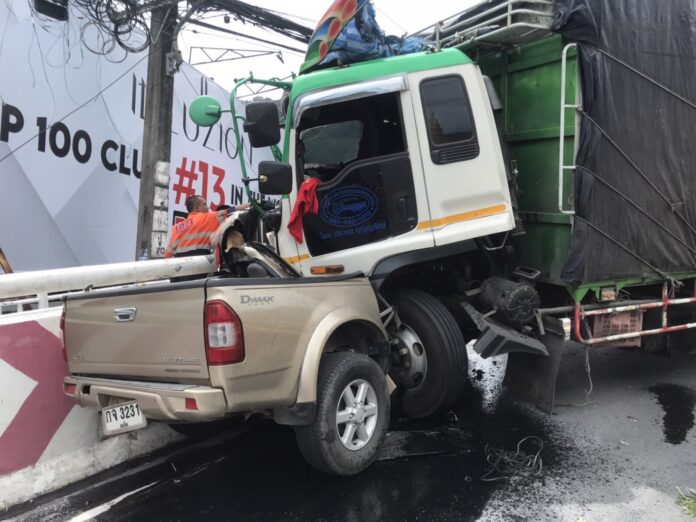 Patong –
Two people were pronounced dead after a truck slammed into a pickup on Patong hill this afternoon.
The Patong Police told the Phuket Express that they were notified of the accident at a curve near the Suwan Khiri Wong Temple (Patong Temple) on Monday afternoon (June 19th).
They and the Phuket Express arrived at the scene to find the truck had slammed head first into the damaged pickup truck at a curve down the hill.
Two people inside the pickup truck, Mr. Prasarn Prateep Na Thalang, 64, and Mr. Kamet Chueayuan, 62, were both pronounced dead at the scene. Rescue workers used a hydraulic cutter to free their bodies out from the wreckage.
The truck driver, Mr. Piyarat Kaewprasit, 38, had injured his shoulder. Traffic was tailed back up and down on the hill. He did not immediately release a statement to the press about the fatal accident.
CCTV footage shows the truck lost control coming down the hill before crashing into the pickup truck which was coming up the hill. However the Patong Police are continuing their investigation to find the cause of accident for possible further legal action.