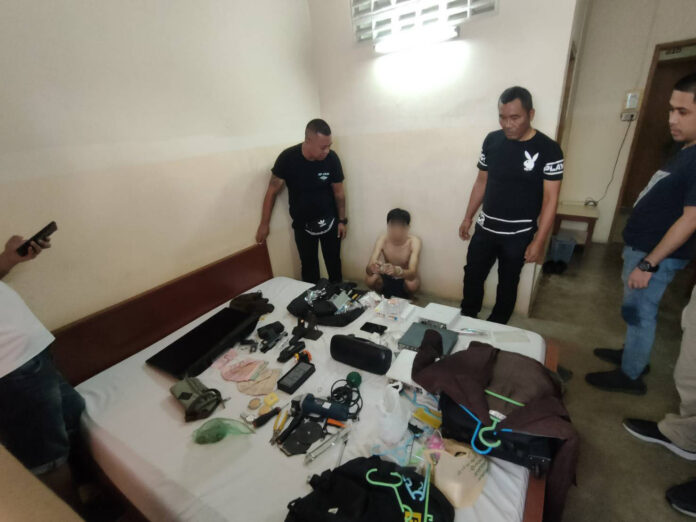 Phuket –
A man from Yala has been arrested in Phuket and has admitted to seven counts of theft.
The Phuket City Police told the Phuket Express that on Tuesday night (June 13th) they arrested a man identified only as Mr. Somchai, 44, from Betong, in the lowest Southern Province of Thailand.
Seized from him was 50,140 baht in cash, two CCTV cameras, and a handgun with six bullets. He was arrested at a hotel in Soi Suthat 2 in Talad Nuea, Phuket Town.
Somchai admitted to police that he broke into a massage shop, a bakery shop, a bank, a gold shop and a restaurant on Yaowarad Road in Talad Nuea. Police tracked down the suspect from CCTV footage to finally arrest him.
Somchai told police that he had staying in Phuket for a month but he was unemployed. He decided to become a thief to earn income for his living costs. He admitted to seven counts of theft. He was jailed for five years for theft in Yala previously.
Somchai is facing charges with night theft and possession of a firearm and ammunition without a permit.
The Phuket Express noted that police did not mention if Somchai was the same thief who failed after trying to break into a bank in Phuket Old Town. The thief then broke into a bakery shop nearby instead.
=======================