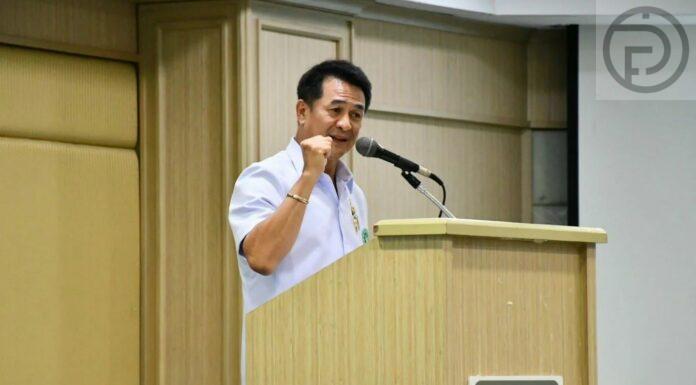 National—
On November 14th, 2023, Dr. Cholnan Srikaew, the Minister of Public Health, revealed to Thai national media regarding a recent meeting to draft the Marijuana and Hemp Act.
Having heard the principles of the recent draft after the meeting, Dr. Cholnan stated to Thai reporters that the amendment aims to clarify and draw a line between recreational purposes and medical aspects. Dr. Cholnan voiced his concern for the health of citizens and encouraged the use of marijuana in health and medical aspects with a clear-cut standard.
Thai reporters asked regarding the recent draft on "The prohibition of marijuana use for recreational purposes," Dr. Cholnan said that he did not read the whole draft of the Marijuana and Hemp Act, however, he agreed on the principles of inscribed rules on using Marijuana in certain places such as the extracts of THC containing more than 0.2 percent of THC are considered an illicit substance and illegal.
However, Dr. Cholnan added that further scrutiny will be discussed on whether parts of marijuana such as the bud, root, leaf, and tissues are beyond the THC criteria or not and if they could cause negative effects and addiction to smokers.
Thai reporters asked if the private sector would be affected by the new Act or not, Dr. Cholnan stated that the Thai law was being written regarding health and medical aspects as primary, and anything that would violate the law would be deemed illegal, stating that economic aspects were not a factor in the draft law.
The draft laws are expected to be reviewed by various committees and groups, both pro and anti marijuana, over the next several weeks before likely going to Parliament for a vote as early as December. It remains to be seen how the draft laws will affect Thailand's marijuana industry or if they will explicitly ban recreational use or instead tighten regulations and policies.
An estimated 6,000 cannabis shops have opened around Thailand since the plant was decriminalized in the middle of 2022 but an ongoing political battle has been taking place between various interest groups with polar opposite goals. Many of the dispensaries are, quite frankly, focused on recreational use of cannabis and cautiously wait to see if the final draft laws affect their business. As stated, however, cannabis business representatives and activists are also involved in the legal drafting of the final regulations for cannabis and are certainly sharing their views and opinions.
The current Thai Minister of the Interior, Anutin Charnvirakul, who led the initiative to legalise and decriminalize marijuana in Thailand when he was the Public Health Minister in 2022, is also certain to have his say in the final rules and regulations, even if it is behind the scenes, notes TPN.
We will continue to monitor this story closely over the next several weeks.
This article originally appeared on our sister website The Pattaya News.