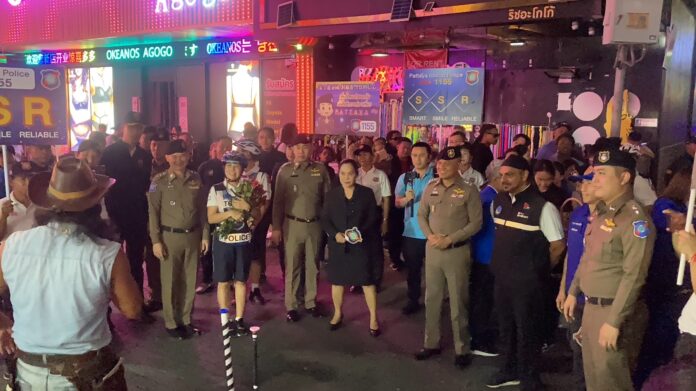 Thailand-
In an unusual move, Chinese police will join Thai police in tourist hotspots to patrol in the near future to boost tourist confidence, said the director of the Tourism Authority of Thailand. However, a later statement by a spokesman to the Prime Minister denied any patrolling would take place and only that the two forces would share information.
The announcement was made today, Sunday November 13th, 2023, by Thapanee Kiatphaibool, director of the Tourism Authority of Thailand. It followed a meeting with the Thai Prime Minister Srettha Thavisin at the Suvarnabhumi International Airport earlier today.
According to Thapanee, a meeting with the Chinese embassy would take place on Tuesday, November 15th, and top Thai police, tourist police, and Central Intelligence Bureau officers would attend to hammer out the specifics of the plan. The exact locations where Chinese police would patrol were not yet released but would be areas Chinese tourists gather in large numbers, said Thapanee. TPN media notes that places like Pattaya and Phuket would almost certainly be on the list.
Thapanee stated that the unusual move was a must to restore the confidence of Chinese tourists in their safety in Thailand, damaged by several factors over the past several months including a major mall mass shooting where a Chinese tourist was one of the fatalities. Additionally, a popular movie in China, No More Bets, in which Chinese nationals are conned into going overseas for legitimate jobs in Southeast Asia and then forced to work in illegal online gambling under horrible conditions by human traffickers, damaged tourism severely as well.
Thapanee added that this program isn't unheard of or a first globally, with China and Italian police previously having a similar program that has since ended. The program was not without its criticism, notes TPN, but ran for multiple years.
Thapanee concluded by saying having Chinese police patrol with Thai police will make not only Chinese tourists feel safer but also tourists from many other countries, who, according to him, trust the Chinese police system.
The announcement has led to furious discussion and debate, much of it negative, online, notes TPN. In fact, it led to a late statement and correction from Chai Watcharong, spokesman for the Thai PM, who said the two forces would only share information, especially involving Chinese criminals, but not have Chinese police actively patrol.
TPN will continue to keep an eye on this story.
This article originally appeared on our sister website The Pattaya News.