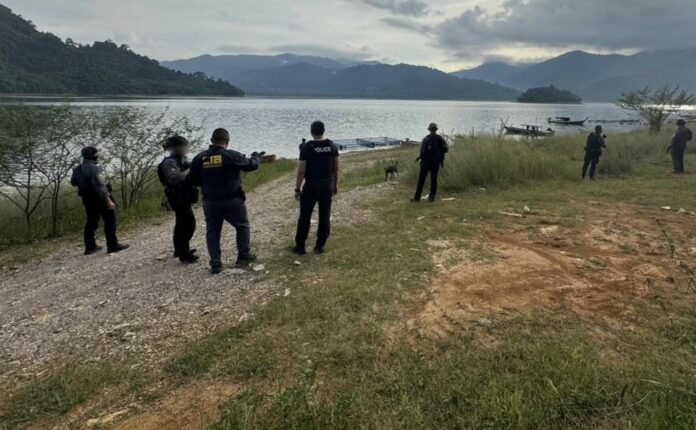 Trang –
A prominent escaped prisoner in Nakhon Si Thammarat is still alive after an extended gun battle with Thai police on a mountain range in Trang.
Our previous stories:
Police are hunting for a Thai prisoner who escaped while he was being treated at a hospital in Nakhon Si Thammarat. The Department of Corrections is offering 100,000 baht to anyone who gives details that lead to the arrest of the escaped prisoner. The Nakhon Si Thammarat Provincial Prison Commander and three officers in the prison have been transferred to the Department of Corrections while an investigation continues into how the prisoner escaped from the hospital and if he had help.
The Thai Department of Corrections has increased the amount of a reward from 100,000 baht to 1,000,000 baht for anyone who gives details that lead to the arrest of a prominent escaped prisoner in South Thailand.
A male suspect who helped a prominent prisoner in Nakhon Si Thammarat flee a hospital and evade police was arrested while the prisoner himself is still on the run.
Now for the update:
Major General Thana Choowong, Deputy Police Commissioner of the Thai Police told TPN media that on Wednesday (November 8th) the Region 8 and Region 9 Police in the south of Thailand battled with Mr. Chaowalit Thongduang, 37, a.k.a. 'Sia Pang Na Nod' on the Ban Tad Mountain range.
The scene is about four kilometers from the Baan Tra village in the Pa Lian district. Police found a shelter where Sia Pang lived but a dog at the shelter barked as they approached after a tip from a concerned citizen. Sia Pang saw police and opened fire with his own weapons. He managed to escape after more than 600 bullets were fired into the area where he was seen.
Thai police did not find Sia Pang's body and they believe that he is still alive but may be injured. Thai special forces from the Hanuman unit were scheduled to arrive tonight to hunt for Sia Pang.
The area where Sia Pang was hiding and fled is extremely rugged terrain with many places to hide and few people, notes TPN media.
This is a developing story.