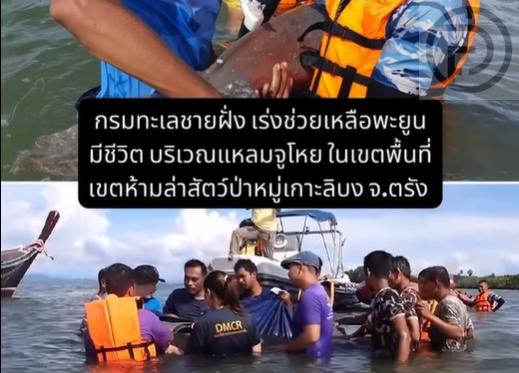 Trang –
A dugong was rescued after getting stuck in a rope at an island in the Gan Tang district.
The Department of Marine and Coastal Resources (DMCR) told the Phuket Express that this week they were notified by staff at Mu Ko Libong Non-Hunting Area in the Ko Libong sub-district that they saw a dugong which was still alive caught in some rope.
They arrived at the island to search for the dugong and finally found it. A rope was tangled around its tail causing some wounds. She was a female dugong who was about two meters long and the rope was safely removed from the dugong. She was still healthy and the wounds will heal by themselves. They have plans to release the dugong back to the sea.
The Phuket Express noted that the dugong is a 'reserved' marine species in Thailand. Trang Province is home for many dugongs because it has plenty of sea grass.