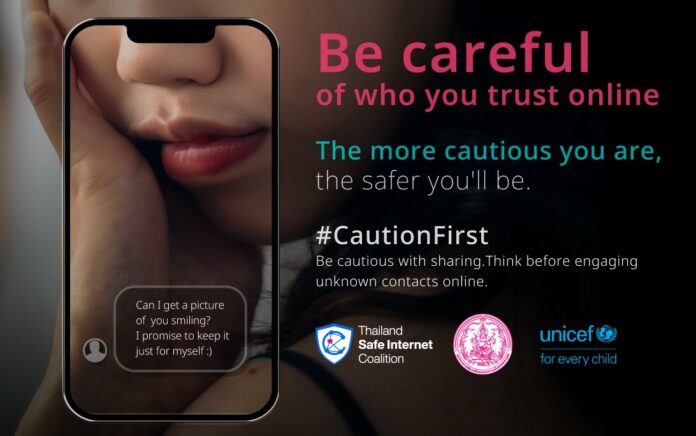 PRESS RELEASE:
UNICEF-MSDHS-Thailand Safe Internet Coalition campaign warns children to "think twice" and stay aware of dangers of online sexual abuse.
BANGKOK, 7 November 2023 – UNICEF, in cooperation with Ministry of Social Development and Human Security (MSDHS) and Thailand Safe Internet Coalition (TSIC) today launched #CautionFirst campaign urging children and adolescents to "think twice" before sharing photos, videos and personal information online. The campaign aims to protect children from online sexual exploitation and abuse after studies show that an alarming number of children in Thailand have become victims of online abuse.
According to the Disrupting Harm report released in 2022 by UNICEF ECPAT and INTERPOL, around 400,000 children aged 12-17 years in Thailand – almost 1 in 10 – were victims of online sexual abuse and exploitation in 2021. These incidents mostly happened on social media channels, and often involved sexual images and videos of children being shared, blackmailing, or the forcing of children to engage in sexual activities.
"This campaign aims to address the alarming trend of online child sexual extortion. That's why everyone has to play a crucial role in ensuring the protection of children online and we must do so together," said Varawut Silpa-Acha, Minister of Social Development and Human Security. "MSDHS is also promoting safe online behaviors among children. The child protection services, including response to the report of child abuse and neglect, is also strengthened in order to ensure that children have access to quality and timely services they need." 
The #CautionFirst campaign kicks off with a one-minute video that shows how exciting it can be to make new friendships online – while also revealing the potential risks.
"Crimes like the ones highlighted by our campaign happen to boys and girls every day in Thailand, but are rarely reported since most of the children are too afraid to tell anyone," said Kyungsun Kim, UNICEF Representative for Thailand. "We need to work together to prevent such traumatic experiences, and this requires serious effort from all sectors from child protection to law enforcement and tech firms. We can start by ensuring that children and parents are aware of the risks, are cautious in sharing information or engaging with anyone online, and have skills to escape or respond when they become victims of criminal behaviour."
In addition to the video raising awareness about online risks, the campaign also provides tips and tools for children and parents to stay safe on the internet. It also aims to normalize conversation around the topic and encourage children to seek appropriate help when they are at risk or become victims of online sexual abuse and exploitation. 
According to the Disrupting Harm report, many child victims of abuse did not know where to seek help or whom to tell, with just 1-3 per cent reporting incidents to the police. Many children blamed themselves and felt responsible for the incidents.  The report also found that the perpetrators of abuse are most often someone the child already knows. 
Assoc. Prof. Joompol Rodcomdee, Chairperson of TSIC said, "By promoting digital literacy and digital intelligence, we can empower young people to make informed decisions and understand the implications of their online actions. Through this campaign, we also hope to advocate for stronger legal and policy responses to address this growing issue." 
Nualphan Lamsam, UNICEF Thailand's National Ambassador supports the campaign wholeheartedly. She urged   all sectors – including government, civil society and private sector – to collaborate more in order to protect children online. 
"Harm online can happen to any child, anywhere at anytime," said Nualphan, also known as Madam Pang. "We have to remember that children are dealing with perpetrators who are very experienced in grooming and tricking them. Protecting children from online danger requires improving the online knowledge and skills of everyone, including children themselves. It's important that everyone comes together and put child protection an urgent and shared priority." 
Last November, Thailand established the Safe Internet Coalition as its first collaborative body to promote safe internet practices and address online risks and harm. The coalition, led by the Ministry of Social Development and Human Security, includes law enforcement, private sector, civil society, children and young people, and international organizations including UNICEF. To promote safer internet environment, the Royal Thai Government marks Tuesday the second week of February as National Internet Safety Day coinciding with International Safer Internet Day.
More information on #CautionFirst campaign: www.unicef.org/thailand/onlinesafety 
Thai version: www.unicef.org/thailand/th/onlinesafety 
Watch one-minute video https://vt.tiktok.com/ZSNUrmUfR/
For more information, please contact:
Rudina Vojvoda, UNICEF Thailand, 065 472 1060  [email protected]
Nattha Keenapan, UNICEF Thailand, 086 616 7555, [email protected]