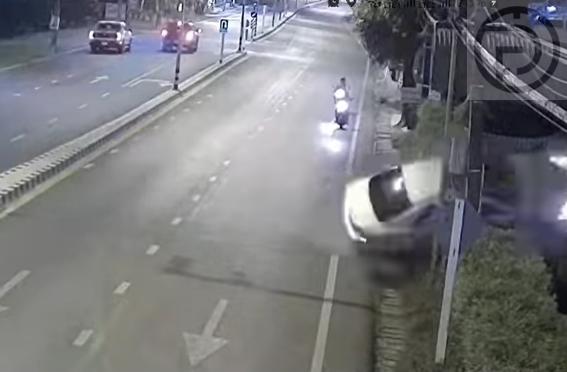 Rawai –
Two motorbike riders have escaped from any injury after a sedan lost control in front of them before slamming into a power pole in Rawai, Mueang Phuket.
Emergency responders were notified of the accident in the early morning earlier this week on the Wiset Road. The first responders arrived at the scene to find the damaged sedan that had crashed into a power pole on the roadside. A unidentified driver who had sustained various injuries was taken to a local hospital.
CCTV footage shows that the sedan was driving behind two motorbikes before losing control and slamming into a power pole in front of them. Both riders were not hit despite an amazingly close call.
The Chalong Police are continuing their investigation as government property had been damaged from the accident and planned to speak with the driver of the sedan when they recovered from their injuries.
Warning of graphic content in the CCTV footage video below.