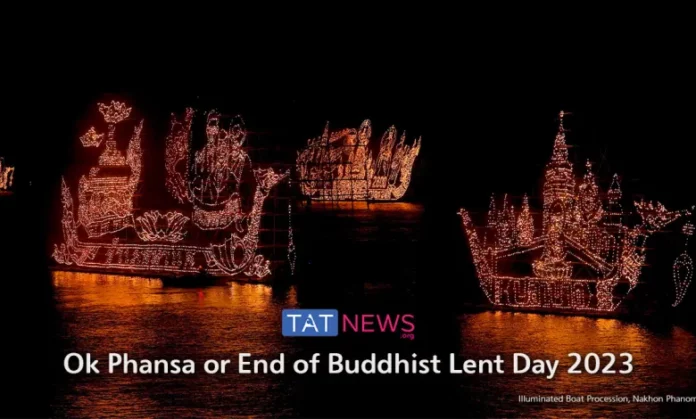 PRESS RELEASE:
On the full moon of the 11th Thai lunar month, usually in October, and this year falls on 28 October.
The Ok Phansa festival marks the end of the Buddhist Lent. It is a time of celebration and merit-making with provinces nationwide set to celebrate the occasion on different days and in distinctive styles, depending on their locality and tradition.
Illuminated Boat Procession, Nakhon Phanom
20-30 October 2023
Mekong River, Mueang District
Beautifully decorated boats float along the Mekong River to pay respect to the Lord Buddha and make offerings to the mythical Naga serpent said to live in the river.
Rap Bua Festival, Samut Prakan
22-30 October 2023
Bang Phli City Hall and Wat Bang Phli Yai Nai.
The one-and-only ancient Buddhist tradition of its kind in Thailand, where the highlight is the barge procession of a replica of the Luangpho To Buddhist image along Khlong Samrong, and the Rap Bua (receiving lotus) activity of the local people of Bang Phli District.
Wax Castle Festival and Long-boat Race, Sakon Nakhon
23-29 October 2023
The 80th Chaloem Phrakiat Park, and Wat Phrathat Choeng Chum
The procession of the intricately carved wax castles portraying the illuminating scenes of Heaven to Wat Phrathat Choeng Chum, and traditional long-boat races on Nong Han Reservoir.
Naga Fireball World Festival, Nong Khai
29 October 2023
The Naga statues plaza by the Mekong River in Mueang District, Lan Naga Boek Fa in Phon Phisai District, Lan Boeng Wiang in Si Chiang Mai District, and Rattanawapi District Hall.
One of the more mysterious of events on the Thailand events calendar, this event centres around the as yet unexplained fireballs that annually erupt into the sky from the Mekong River.
Ok Phansa Festival, Roi Et
30 October 2023
Somdet Phra Srinagarindra Park
Famous for the Sorapanya (Homage to the Buddha) Chanting competition, 'Khao Thip' (milk-rice pudding with honey) making ceremony, and lantern decorations.
Chak Phra, Robe Offering, and Long-boat Racing Festival, Surat Thani
26 October-3 November 2023
Tapi River, Na Mueang Road and Ban Don Road
Elaborately decorated floats take part in the hauling of Surat Thani's revered Buddha images on the Tapi River and on land. The nine-day festivities also include long-boat races.
Chak Phra Festival, Yala
29 October 2023
Yala Municipal Youth Centre
Revered Buddha images are carried in elaborately decorated floats around the city.
Tak Bat Devo Festival, Uthai Thani
29-30 October 2023
Wat Sangkat Rattana Khiri
The biggest Tak Bat Devo ceremony in Thailand, where the key element of the day is the offerings made to around 500 Buddhist monks, who descend the 449-step staircase from the temple's chedi.
Tak Bat Devo Festival, Khon Kaen
30 October 2023
Wat Phra Bat Phu Pan Kham
The highlight is the offerings made to 299 Buddhist monks, who descend the 1,049-step staircase from the temple's chedi.
Tak Bat Devo Festival, Lop Buri
30 October 2023
Wat Khao Phra Ngam