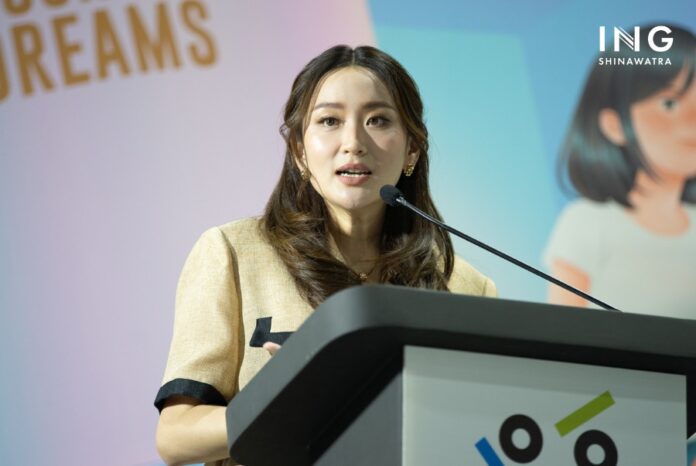 National —
Paetongtarn Shinawatra, the daughter of Thailand's former Prime Minister Thaksin Shinawatra, has been elected as the first female leader of the ruling Pheu Thai Party.
Paetongtarn, 37, was the sole candidate at the party meeting today, October 27th, a general meeting convened to appoint Pheu Thai's eighth leader and new party executives.
Beyond her party role, the youngest child of Thaksin has assumed several key positions in the new government, including seats on the national health system development committee and deputy chair of the soft-power strategy panel.
Paetongtarn entered politics just two years ago as Pheu Thai's chief adviser for participation and innovation. However, she later emerged as one of the party's three prime ministerial candidates in the recent general election.
Also known by her nickname as "Ing", Paetongtarn is the mother of two children. Pheu Thai's Deputy Prime Minister Phumtham Wechayachai expressed his support for her appointment, saying her abilities matter more than her family name. He noted that this move opens doors for the younger generation to actively engage in the party.
Pheu Thai also elected 23 new executive members including:
Chusak Sirinil: Deputy Leader
Julapun Amornvivat: Deputy Leader
Ochit Kiatkongchuchai: Deputy Leader
Jiraporn Sindhuprai: Deputy Leader
Pongkawin Juangroongruangkit: Deputy Leader
Paopoom Rojanasakul: Deputy Leader
Sorawong Thienthong: Secretary-General
Sriyada Phalimapan: Deputy Secretary-General
Linthiporn Varinwatchararoj: Deputy Secretary-General
Saran Timsuwan: Deputy Secretary-General
Taweesak Anakkhaphan: Treasurer
Nanat Hongchuvech: Registrar
Danuporn Punnakan: Spokesperson
Theerarat Samrejvanich: Executive Member
Voravong Vorapanya: Executive Member
Patchara Chantararuangthong: Executive Member
Nikorn Soemklang: Executive Member
Thitiwat Adisornphankul: Executive Member
Jadet Jantar: Executive Member
Ponnodcha Chakpetch: Executive Member
Chanin Rungthanakiat: Executive Member
Saratsanun Unnopporn: Executive Member
This article originally appeared on our sister website The Pattaya News.