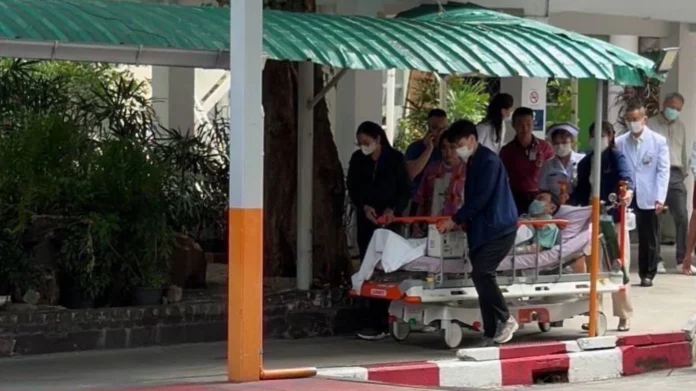 National —
A group of activists, who refer to themselves as the "Network of Students and People Reforming Thailand," threatened to storm the hospital room of Thailand's former Prime Minister, Thaksin Shinawatra, to verify if he is genuinely sick.
Despite the doubtful legality of this move, the group led by Mr. Phichit Chaimongkol submitted a petition to the Ministry of Justice on Wednesday, October 18th, urging the ministry to cease granting alleged privileges to the incarcerated premier.
Mr. Phichit claimed that the justice ministry is allegedly providing Thaksin with preferential treatment by allowing him to stay in the Police General Hospital's Premium Ward for an unusually long period when he should be serving time in prison.
According to Mr. Phichit, this action has undermined Thailand's judicial system. He added that if the ministry does not respond to his group's demands, which include Thaksin returning to prison immediately, not extending his treatment outside of prison, and allowing a human rights organization to monitor Thaksin's health, his group will go to the premium ward where the former PM is believed to be staying to verify if he is ill enough to justify his stay there.
Thaksin, 74, is said to be in the Premium Ward on the 14th floor of the Police General Hospital, due to alleged health conditions. His stay at the hospital was also recently extended due to a recent surgery related to an undisclosed health condition.
Nevertheless, Thaksin's external treatment at the hospital is set to expire today. The Ministry of Justice is responsible for considering another extension.
A recent photo of Thaksin being taken to medical treatment was highly scrutinized on Thai social media as we covered here.
Meanwhile, Thai prison authorities have continually stated that revealing Thaksin's medical conditions or allowing activists to confirm his status violate Thai medical privacy laws as we covered here.
This article originally appeared on our sister website The Pattaya News.