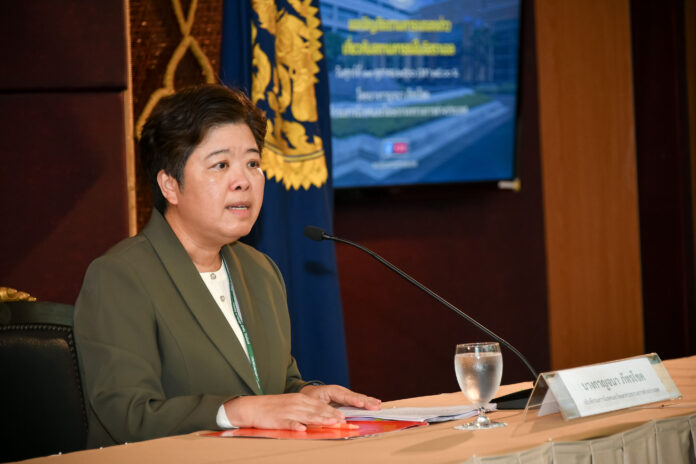 Summary of Press Briefing on the Situation in Israel
on Friday 13 October 2023 at 15.00 hrs.
at Press Conference Room, MFA and via MFA Facebook Live
1. Overview
1.1 Mrs. Kanchana Patarachoke, Director-General of the Department of Information and MFA Spokesperson, held a press conference to provide updates on the meeting of the Rapid Response Center (RRC), chaired by Mr. Jakkapong Sangmanee, Deputy Minister of Foreign Affairs, this afternoon to discuss the unfolding situation in the Middle East and the integrated efforts by Thai agencies to accelerate evacuation plans for Thai nationals. Ms. Pannabha Chandraramya, Ambassador (Amb) of Thailand to Israel, among others, joined the RRC meeting via teleconference to provide updates and progress in assisting Thai nationals.
1.2 This follows the RRC meeting, chaired by Prime Minister Srettha Thavisin, yesterday evening at MFA, where he emphasized that the safe evacuation of Thai nationals from Israel is a top national priority and has communicated this to the Ambassador of Israel to Thailand this morning.
2. Statistics regarding Thai nationals
2.1 Death toll: 21 (unchanged from 12 Oct.)
2.2 Number of injuries: 14 (unchanged from 12 Oct.)
2.3 Number of abductions: 16 (unchanged from 12 Oct.)
2.4 Number of Thai nationals who have registered for voluntary repatriation: 6,778 while 85 Thai nationals have indicated their intent to remain in Israel (increased from yesterday).
3. Evacuation Plans
3.1 The RRC meeting this afternoon confirmed the second repatriation of 19 Thai nationals via Israel flag carrier El Al flight LY085, which left Tel Aviv today at 04.30 hrs. local time, and is scheduled to arrive today at 16.57 hrs. at Suvarnabhumi Airport.
3.2 Tomorrow (14 Oct.), the Royal Thai Embassy in Tel Aviv (RTE) will coordinate the third repatriation of 100 Thai nationals via Fly Dubai, which will transit in Dubai to transfer passengers to flight FZ 1837, arriving in Thailand on Sunday (15 Oct.) at 07.25 hrs. at U-Tapao Airport and will be transferred to Bangkok.
3.3 RRC is preparing for further repatriations via chartered flights with Israel flag carrier El Al, Thai Airways, and commercial airlines, and has set a target to repatriate at least 400 Thai nationals a day via all possible channels.