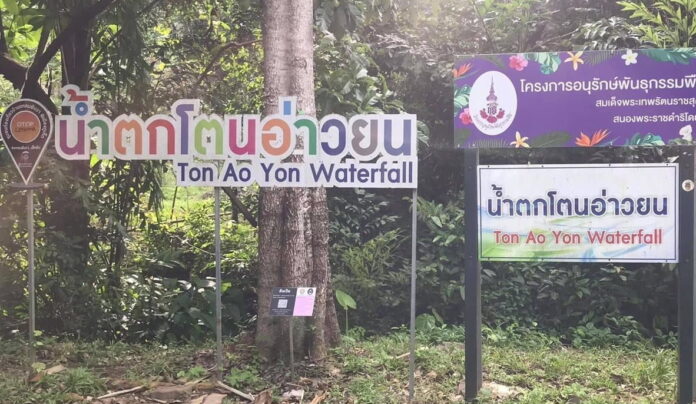 Wichit –
The Ton Ao Yon Waterfall in Wichit, Mueang Phuket, is temporarily closed for tourism.
The Wichit Sub-district Municipality has issued an announcement about the closure over the past weekend. The announcement stated, "The Ton Ao Yon Waterfall is temporarily closed for tourism due to concern about the safety of tourists and to maintain a positive image of Phuket tourism. Sorry for the inconvenience."
The Phuket Express noted the Wichit Municipality did not mention any more specific details about the closure or reasoning behind it. There was no timeframe given for how long the closure would be.
Related articles:
Phuket police from the Wichit Police station confirmed this evening, August 5th, 2021, that a foreign female tourist believed to be a Swiss national in her 50's and confirmed as a Phuket Sandbox tourist, was found dead at the Ton Ao Yon waterfall in Wichit, Phuket, earlier today.
The victim, 57, the deputy protocol chief of the Federal Assembly of Switzerland, left her hotel in Ao Yon at around 11:30 AM.
Memorials for the Swiss tourist, 57, who died in the Phuket Sandbox under suspicious circumstances last week, were held Friday night (August 6th) and have continued on a smaller scale over the weekend as information about the heinous crime continues to come in.