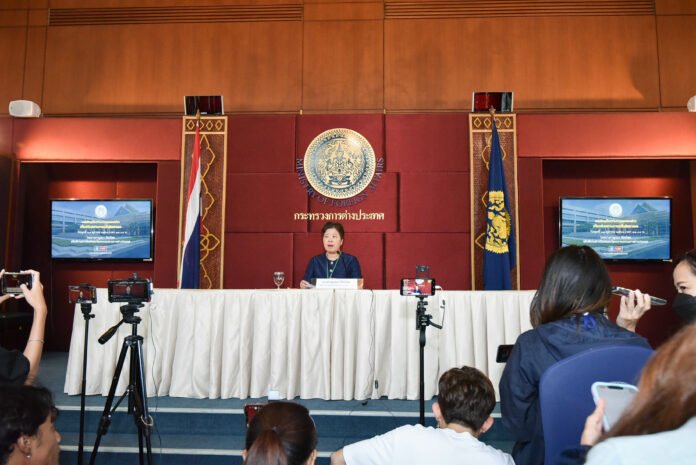 on Wednesday 11 October 2023 at 11.00 hrs.
Press Conference Room, MFA and via MFA Facebook Live
1. Mrs. Kanchana Patarachoke, Director-General of the Department of Information, and MFA Spokesperson held a press conference regarding the situation in the Middle East and the impact on Thai nationals in Israel with updates from the Royal Thai Embassy in Tel Aviv (RTE).
2. Overall Situation
2.1 RTE has reported on further attacks and aerial bombardments since yesterday afternoon (10 Oct.) with the death toll and number of injuries increasing on both sides in the current state of war.
3. Statistics regarding Thai nationals
3.1 Death toll: 20 (figure includes an additional 2 according to unofficial reports from employers and Thai nationals on the ground, pending official verification from Israeli authorities which will take time).
3.2 Number of injuries: 13 (figure includes an additional 4)
3.3 Number of Thai nationals taken hostage: 14 (figure includes an additional 3 based on unofficial reports from Thai nationals in Israel)
3.4 Number of Thai nationals who have registered for voluntary repatriation: as of yesterday (10 Oct.), 21.00 hrs., 5,019 Thai nationals have registered for voluntary repatriation, while 61 have indicated their intent to remain in Israel. There are approximately 30,000 Thai nationals in Israel.
4. Evacuation Plans
4.1 Amb continues to be in touch with the Ministry of Foreign Affairs (MFA) of Israel to expedite the evacuation of Thai nationals from high-risk areas to safe zones in coordination with the relevant Israeli authorities. Hundreds of civilians, including Thai nationals, have already been evacuated to safe zones. They will reside in temporary shelters or work on agricultural plantations as alternative employment for the time being.
4.2 MFA Spokesperson confirmed that the first group of 15 Thai nationals will be repatriated to Thailand via El Al and arrive tomorrow morning (12 Oct.) at 10.35 hrs. No press conference at MFA tomorrow morning.
4.3 Royal Thai Air Force (RTAF) aircraft, which is scheduled to repatriate Thai nationals from Israel on Sunday (15 Oct.).
4.4 RTE continues to expedite coordination with commercial airlines to repatriate more Thai nationals from Israel and confirms that 80 seats have been secured for departure next Wed. (18 Oct.).
5. Assistance from Government Agencies
5.1 Yesterday afternoon Israel local time, Amb and Labour Attaché in Tel Aviv visited a group of Thai nationals who had been evacuated from high-risk areas to lift their spirit and offer guidance on their continued employment, facilitate their registration and travel documents for voluntary repatriation, and offer any other services they may require. Amb also visited a severely injured Thai national at a hospital near Tel Aviv. She received updates on his condition from medical personnel, who reassured that they would do their best to care for all those who have been wounded from the conflict.
5.2 Every afternoon, MFA hosts a daily meeting of the Rapid Response Center (RRC), which is the key mechanism to integrate and coordinate immediate response efforts by Thai government agencies to assist Thai nationals in Israel and those who have been repatriated. The RRC meeting today will be followed by a press conference at 15.00 hrs.