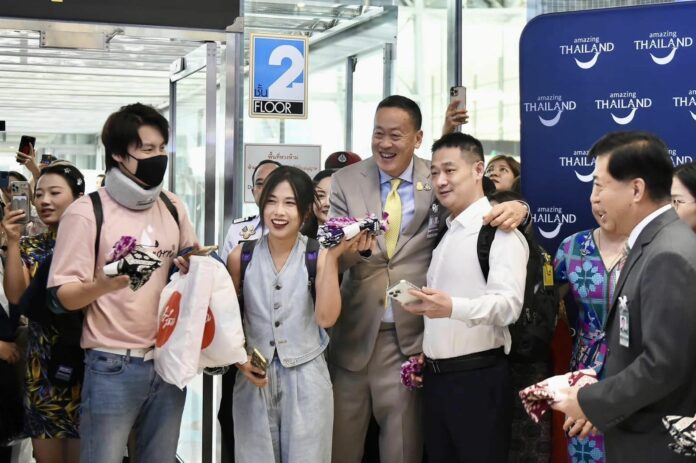 Thailand –
Thai hospitality and tourism leaders are urging the Thai Government to extend a current visa waiver exemption program for Chinese and Kazakhstani nationals to Indian tourists to boost tourism.
Our Previous Reference Articles:
Mr. Sittiwat Chewaratanaporn, President of the Association of Thai Travel Agents (ATTA), stated that although there is an initial visa exemption, the booking of tours to Thailand did not increase further, due to tour operations that had previously been booked before the visa exemption.
On September 30th, 2023, Mr. Thanakorn Wangboonkongchana, Deputy leader of the United Thai Nation Party, stated that the number of foreign tourists visiting Thailand from January 1st to September 24th, 2023 was significant.
Now for the update:
Panlert Baiyoke, Chairman of the Baiyoke Hotel and Resorts Group told Thai Media, "The number of Chinese tourists to Thailand is still low and not to the level we expected after the free visa exemption program took place in late September. As the waiver happened somewhat suddenly without much advance notice many Chinese tourists had already planned their recent trips to other destinations. Most of the current Chinese tourists who are visiting Thailand now are FIT (Financially Independent Travelers) and not in large tour groups. Currently, hotel rooms in the Baiyoke Group are booked at about an average of 70 percent occupancy rates, which is about the same it was before the visa waiver for Chinese nationals. Hospitality industry leaders across Thailand believe we need a visa waiver exemption for Indian tourists too. They are a large market and currently still have too much paperwork and fees to complete to visit Thailand easily."
Chanin Vanijwongse, the Chief Executive Officer of the Habitat Group, who is developing many properties in Bangkok and Pattaya, added, "We will see the number of Chinese and Kazakhstani tourists lift slightly during the high season this October. However, currently not many Chinese tourists are visiting Pattaya, most of their foreign tourists are Russian, so the impact of the waiver on Pattaya tourism was limited. Chinese tourists are mostly staying in Bangkok or Phuket currently, much of this driven by safety concerns and reluctance to visit places they are not as familiar with."
"As for our customers who are renting condominiums and pool villas in Pattaya, 70 percent are Thais from Bangkok and 30 percent are foreigners. Most of the Russian buyers for condominiums are in the Wongamat area and are interested in units that range from about five to 15 million baht. Most pool villa buyers are European, French, and German. There are a few Chinese buyers who are interested mostly in luxury villas for 10-20 million baht." Chanin added.
The president of the Phuket Real Estate Association Mr. Maythapong Upatisarong chimed in stating, "Phuket real estate sales are increasing steadily and many properties are being sold. Many foreigners buy properties in Phuket as their second homes. Phuket has many international schools and most of the customers are Chinese and Russians but Australians and Indians are a growing market. Land prices are also increasing in some areas such as in Cherng Talay, Thalang."
TPN media notes that it wasn't clarified exactly how some foreigners were allegedly purchasing land and non-condo property, which is a very restrictive area in Thai law, but the speakers from the various associations did not clarify if the foreigners in question may have had Thai spouses or family.
The original version of this article appeared on our sister website, The TPN National News, owned by our parent company TPN media.