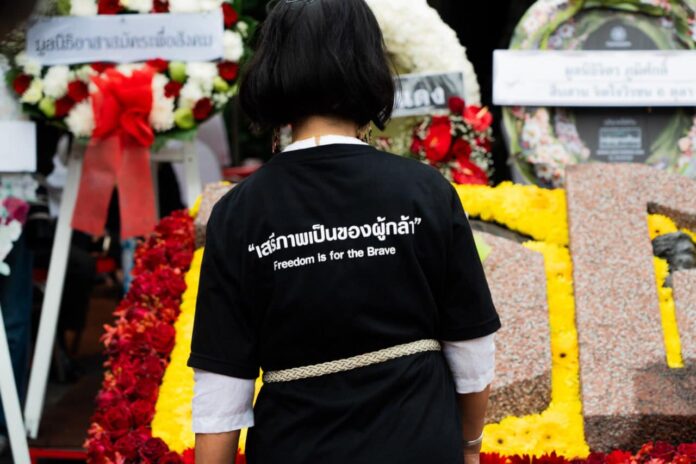 National —
On this day, October 6th, Thai people remember two heart-wrenching massacres that have deeply shaken Thailand's history.
On this day in 2022, a sacked Thai policeman stormed a children's daycare center in the northeastern province of Nong Bua Lamphu, and killed numerous toddlers in their sleep.
While the suspect made his way to the ill-fated daycare, he also gunned down several innocent residents in nearby areas, resulting in a staggering 38 deaths, including himself, his wife, and child, and 12 injuries.
Today, the daycare center held a religious ceremony to commemorate the 1st anniversary of the massacre. Twelve monks performed Buddhist chanting while center officials, relatives, and families affected by the tragic incident made merit for their lost loved ones.
Teacher Seksan Srirat, the husband of a pregnant teacher who lost her life along with her unborn child in the incident, told The Nation that he prepared snacks, milk, and sweets to make merit for his departed wife and child today.
He said: "My wish is that those in power will keep the promise made after the incident to address gun violence and ensure the safety of people. But I admit that I am concerned that the promise will not be kept after the change in government."
47 years ago today also marks another massacre that has left a deep wound in Thailand's history.
The October 6th Thammasat University massacre, which unfolded in 1976, saw Thai police and military personnel, equipped with firearms, violently cracking down on thousands of students who were demonstrating for democracy against the dictatorial government of Thanom Kittikachorn at the university.
Although the government at that time officially reported 46 deaths on that day, survivors claim that the actual death toll from the massacre are as many as 100.
Thammasat University held the 47th anniversary of the sorrowful incident today, which was attended by the victims' familes, academics, activists, and politicians.
These two incidents were brought back to the forefront again, following a recent shooting incident conducted by a 14-year-old shooter at Siam Paragon shopping center.
The incident led to the deaths of a Chinese tourist and a Burmese woman and injuries to five others.
This article originally appeared on our sister website The Pattaya News.