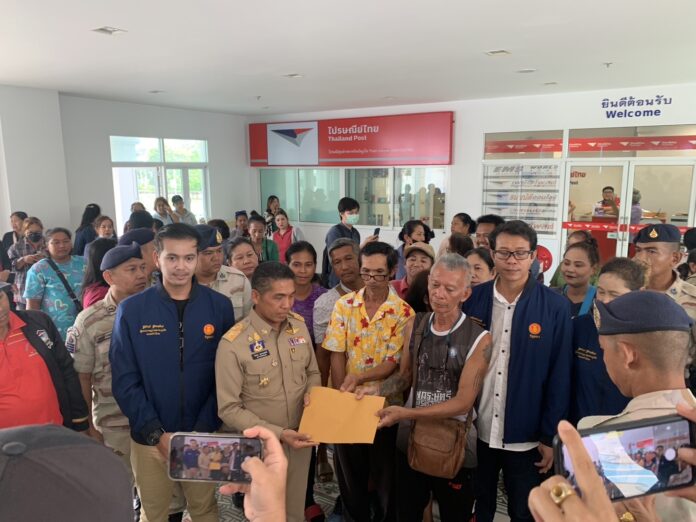 Thalang –
Forty local vendors at Surin Beach in Cherng Talay gathered together in a peaceful, calm protest to hand a letter to the Phuket Governor asking for a designated selling area.
The new Phuket Governor Mr. Sophon Suwannarat started his duty at the beginning of this month after the former Phuket Governor Naroong Woonciew retired at the age of 60.
On Thursday (October 5th) at the Phuket Provincial Hall, Governor Sophon received a letter from Surin Beach vendors. The letter states that for more than 20 years locals in Cherng Talay have been selling goods at Surin Beach. Sometimes, the Cherng Talay sub-district Administrative Organization collected fees from sellers.
During the National Council for Peace and Order (NCPO) rule after a military coup eight years ago, vendor stalls were demolished and locals were not allowed to encroach on the beach. However, vendors still needed to make a living through their occupations especially during the Covid-19 crisis. Beach beds, local massagers, and vendors continued to do their jobs as they didn't have other occupations despite technically breaking the law.
Recently, there was a group of men who claimed to be from the Thai Internal Security Operation Command: ISOC who came to the beach. They didn't have anything to prove and show who they claimed they were and they reportedly chased the vendors from the beach. They told the vendors they will be back again on Friday (October 6th) to remove all structures and stalls.
The vendors have asked for help from the provincial government to find a compromise as a solution and to allow them to perform their occupations on the beach as there are many tourists at the beach who appreciate their services, according to them. The vendors understood the concerns about encroachment but hoped a solution that pleased both parties could be found and have proposed a designated selling area.
The Governor has not yet officially responded to the proposal as of press time.