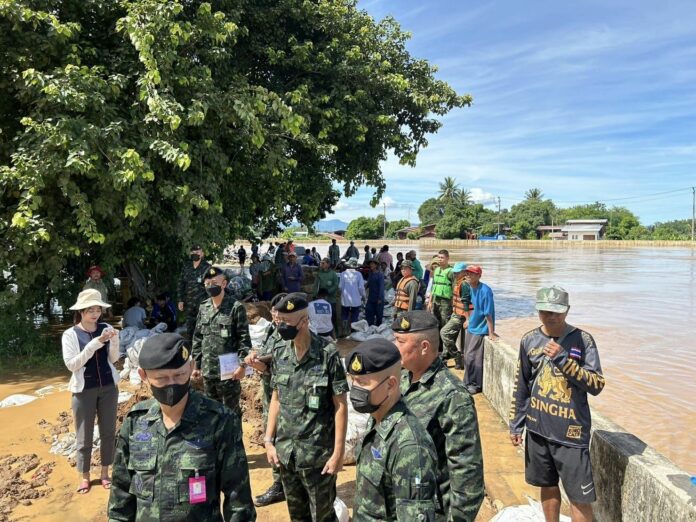 PRESS RELEASE:
A key meeting, spearheaded by Thailand's Ministry of Interior, focused on the evaluation of current flood situations and disaster relief measures.
The event saw the participation of Deputy Prime Minister and Minister of Interior Anutin Charnvirakul, Deputy Interior Minister Kriang Kalpthanin, and Permanent Secretary for Interior Suttipong Juljarern, along with various provincial executives and officers.
Two primary issues filled the agenda: an overview of weather forecasts and an assessment of flood conditions. Two focal points were highlighted—1) Monitoring weather patterns and issuing flood warnings; 2) Tracking flood conditions and providing aid in seven provinces, namely Phrae, Lampang, Sukhothai, Chainat, Ayutthaya, Kalasin, and Ubon Ratchathani.
Minister Anutin commented that abrupt flooding has recently impacted the Northern and Northeastern parts of Thailand. Directives have been issued by the Prime Minister for immediate intervention and full-scale assistance to the affected residents. He added that although the government can manage such calamities and contain the damage, unpredictability in rainfall and water levels calls for a more preventive approach over solely providing relief.
Lastly, Minister Anutin confirmed the Ministry's preparedness to manage various disasters, citing legal frameworks and delegated powers to provincial governors. In cases of immediate necessity, these governors have the authority to declare their regions as disaster zones, facilitating efficient coordination and management. The Ministry is fully committed to supporting provincial authorities in these efforts.
The preceding is a press release from the Thai Government PR Department.