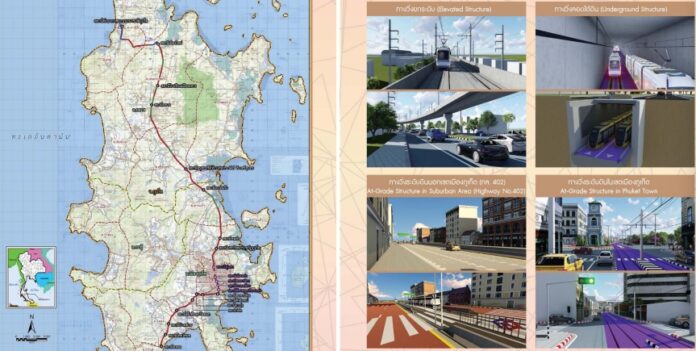 Phuket —
The Thai Minister of Transport vowed to make trams happen in Phuket City. However, the project will be after an ongoing road expansion construction project finishes which will take about 2 more years.
On September 30th, 2023, Mr. Suriya Juangroongruangkit, Minister of Transport, stated to the public that Phuket province is in need of a mass transportation system for convenience. The Mass Rapid Transit Authority of Thailand (MRTA) presented a report on a current study project on the development of a mass transportation system for Phuket City, Tha Nun Railway Station – Phuket Airport – Chalong Intersection, a total distance of 58.5 km, worth hundreds of millions of baht.
At present, Phuket City has traffic congestion and ongoing road expansion construction work, especially on Highway 402. For this reason, a light railway construction project, or tram, is currently on hold for 2 more years in order to finish the road expansion construction first.
Furthermore, Mr. Suriya also mentioned a policy of transport fares which should be affordable for locals. As for the new transportation route on Tha Nun Railway Station – Phuket Airport – Chalong Intersection, it will benefit both tourists traveling from Phuket International Airport and Phuket locals.
Initially, the fares are set to 20 Baht throughout the line from Muang Mai Station – Chalong Station and will be surcharged traveling from the airport at 30-50 baht depending on inflation rates in the future.