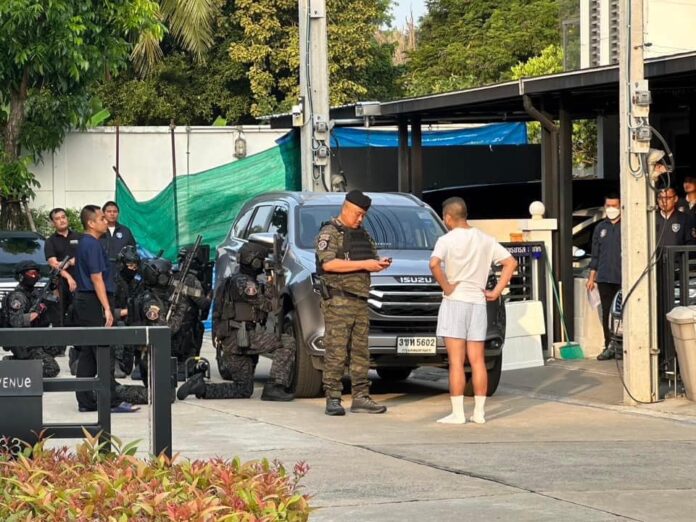 National –
This operation was part of a major crackdown associated with an alleged online gambling ring, and the Police Cyber Taskforce (PCT) deployed a support squad for a nationwide operation targeting the alleged online gambling website.
Pol. Lt. Gen Voravat explained that the purpose of the search was to locate and apprehend individuals wanted under arrest warrants believed to be residing in the area, and to collect potential evidence related to alleged online gambling activities. The presence of high-ranking officers during the operation was in response to orders from the Deputy Commissioner General. However, specific details of the case remain unclear, according to Pol. Lt. Gen. Voravat.
The search yielded no evidence implicating Pol. Gen. Surachate, sometimes called "Big Joke," as an affectionate nickname, in any illegal activities.
In a subsequent report, the search led to the issuance of arrest warrants for eight police officers, some of whom have already been apprehended. All eight officers served under the command of Pol. Gen. Surachate. The list of these officers includes Pol. Lt. Col. Namkiat Theerarojnop, Pol. Lt. Gen. Khamarin Phisamai, Pol. Lt. Gen. Phakphum Phisamai, Pol. Lt. Col. Krit Pariyaket, Pol. Lt. Col. Aris Khunpraserttanarat, Pol. Lt. Col. Chanat Owamatorn, Pol. Lt. Col. Nattawut Hwadwaeo, and Pol. Lt. Col. Apisit Khonyang.
Meanwhile, Pol. Gen. Surachate stated at a late afternoon press conference that the allegations were without merit and he would be pressing charges against those responsible for doing so, claiming the actions were done only to attempt to damage his reputation. He did not reveal who was responsible for ordering the raids, although did note that only his address was listed in court documentation and that his name or any arrest warrant had never come up. He also stated that the raiding officers had no idea it was his residence and were shocked to find him there.
Pol. General Surachate is consistently involved in investigating high level corruption and police misbehavior cases, such as the recent major Kamnan Nok case, and has developed an extremely high profile as a result…but also likely enemies.
The original version of this article appeared on our sister website, The Pattaya News, owned by our parent company TPN media.