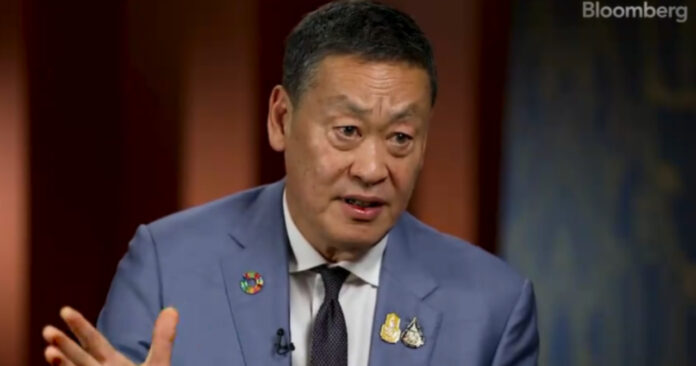 National —
Prime Minister Srettha Thavisin announced his ambition to put an end to the recreational use of marijuana within Thailand in six months, promising law amendments and stricter restrictions on the sale of the plant to ensure it is used solely for medical purposes.
PM Srettha on Thursday, September 21st, told Bloomberg that his administration is working towards ending the ambiguous rules around the use of cannabis, which he acknowledged is currently available for both medical as well as recreational uses.
Thailand became the first nation in Asia to decriminalize marijuana in June 2022 for its medical applications. However, since then, due to an absence of regulation due to ongoing debate over the decriminalization between various political groups, thousands of cannabis retail shops have sprung up around the country, particularly in tourist spots like Pattaya and Phuket, making it challenging to control its improper use.
Srettha highlighted to the US-based media: "Marijuana laws need to be rewritten to allow for medical use exclusively. The plant must not be used for recreational purposes."
Although he did not elaborate on the specific details of how he will regulate the plant or the shops, Srettha did set a six-month deadline, stating that clearer and stricter regulations will be implemented within this timeframe.
The PM also hinted that there is already a broad agreement among the 11 parties within the government coalition that the use of cannabis and its extracts should be strictly limited to medical purposes.
Meanwhile, among the coalition is the Bhumjaithai Party, who succeeded in materializing its flagship campaign of cannabis legalization during the previous government.
Though Anutin Charnvirakul, the Bhumjaithai leader, stated multiple times his intention to amend the Narcotics Act to ensure strict control over cannabis use, he strongly opposes the idea of re-categorizing marijuana as a controlled substance. Such an act could see people jailed or fined heavily for marijuana use and Anutin and Bhumjaithai is strongly against this.
Following the removal of marijuana from the list of controlled substances by then-Minister of Public Health Anutin, cannabis use in Thailand fell into a state of complex and vague legality.
Currently, there are nearly 6,000 cannabis retail shops nationwide. Thai farmers are also freely permitted to cultivate marijuana only if they seek a permission from the Food and Drug Administration beforehand.
Furthermore, the only clear rules governing the plant use appear to be only the ban on smoking marijuana in public areas, an age restriction, and the prohibition of the cannabis shops operating near schools, not addressing the elephant in the room-its illegal recreational use and thousands of dispensaries clearly focused on tourists and recreational use versus strict medical applications.
Several times, ideas have arisen in the new government to clarify the vague regulations.
The recently appointed Public Health Minister, Cholnan Srikaew, stated that the Bhumjaithai party has the option to reintroduce its Cannabis Bill in parliament for deliberation.
He emphasized that despite cannabis being delisted, it is still classified as a narcotic although that has been debated by some.
He underscores the necessity of amending the Cannabis Act to limit its use. Furthermore, he suggested that the cultivation of cannabis plants, especially the allowance for households to grow up to 15 plants in their backyard, should be restricted.
Meanwhile, cannabis leaders in Phuket and Bangkok in reaction to the announcement have been mostly unfazed, stating it will be impossible to clearly define medical and recreational and that they feel a compromise will be made.
They also cautioned that trying to reinstate fines or penalties for recreational use as Cholnan suggested would see broad corruption as with the bar industry and another large elephant in the room, prostitution. Officially, the former Thai governments have previously said prostitution doesn't exist in Thailand but in reality is widespread in many areas, despite not being fully legal. Pushing recreational marijuana underground, warn cannabis leaders, will cause even more problems.
That being said, many cannabis business operators welcome reasonable regulation, especially to stop illegal smuggling of marijuana from the US to Thailand and to help protect and promote locally grown marijuana from Thai farmers.
The original version of this article appeared on our sister website, The Pattaya News, owned by our parent company TPN media.
-=-=-=-=-=-=-=–=-=-=-=-=-=-=-=
Help support The Pattaya News in 2023!
Need medical or travel insurance for your trip to Thailand? We can help!