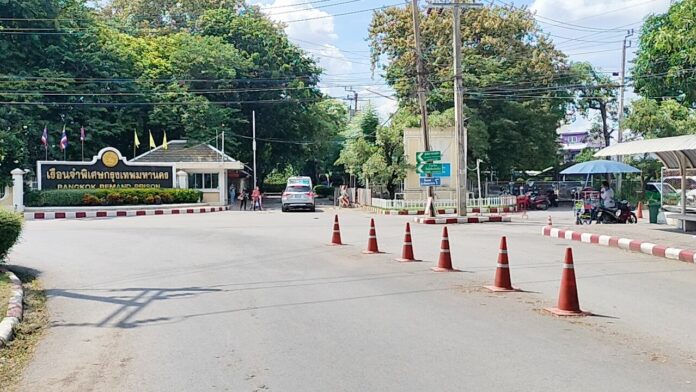 National-
Six policemen who allegedly helped suspects in the killing of a highway police officer have been moved for detainment to the Bangkok Remand Prison.
Our previous stories:
The sub-district headman invited a group of the highway police for dinner. The sub-district headman was talking with Major Siwakorn and the sub-district headman allegedly asked for the promotion of another highway policeman. The discussion did not go as was planned. The gunman came in before opening fire at the dining room table.
A sub-district headman (Kamnan) has surrendered himself to police after a highway policeman was shot dead in Nakhon Pathom.
A gunman who shot a Thai highway policeman to death in Nakhon Pathom was shot dead by the Central Investigation Bureau (CIB) Police after escaping to Kanchanaburi.
Six Thai police officers are in custody for allegedly helping the cop-killing suspect destroy evidence and evade arrest in the brutal highway police shooting in Nakhon Pathom Province.
Now for the update:
The Commander of the Crime Suppression Division (CSD) Major General Montree Thetkan told TPN media that on Wednesday (September 20th) six police suspects who allegedly helped the sub-district headman 'Kamnan Nok' in the murder case were transferred from the Samut Songkhram Central Prison to the Bangkok Remand Prison with full security during the transfer.
Major General Montree told TPN media that the public has been curious if these six suspected police officers are being detained in the same area as Kamnan Nok as they are in the same prison. Major General Montree explained that there are eight different zones in the prison which are totally separated. The six policemen and the 'Kamnan Nok' are not in the same area and do not have any chance to meet nor will they be allowed to do so.
The original version of this article appeared on our sister website, The TPN National News, owned by our parent company TPN media.