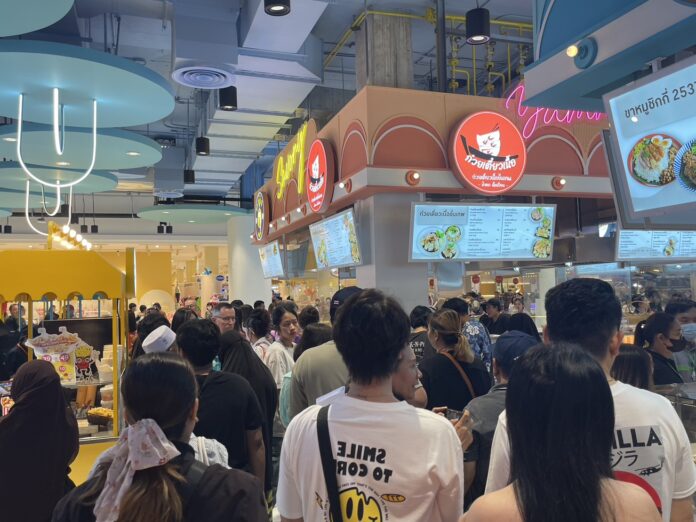 Phuket – Central Retail Corporation Limited (CRC) proudly presents its latest venture, the "Robinson Lifestyle Shopping Center," located in Phuket's Chalong sub-district.
It's not just a shopping center; it's your all-in-one lifestyle hub. Experience the 'Carnival Village' concept with vibrant colors and non-stop entertainment. Robinson Department Store and top brands create a unique Eat-Shop-Play experience. The first phase opens on September 20th, 2023, with full services by year-end.
Mr. Philippe Broianigo, Central Retail CEO for Real Estate and Business Development, is thrilled about the Chalong branch. He said, "After the success of Robinson Lifestyle Shopping Center, Thalang Branch last year, we're excited to expand with 'Robinson Lifestyle Shopping Center, Chalong Branch.'
This modern destination blends sustainability and Phuket's identity, with local influences in its design. We're eco-friendly with reduced surface materials and recycled wood. We support local artisans and have 350+ leading brands in over 7,600 sqm, making us 'More than a lifestyle destination shopping center.'"
The center is divided into three main areas:
More Than Eat–Shop–Play: Robinson Lifestyle Shopping Center, Chalong Branch aims to provide a unique and exclusive experience for the local community.
Highlights include:
Food Paradise (Eatery): Indulge in a variety of international cuisines and savor an array of delicious options.
EVERYDAY A FOOD HOUSE: Enjoy dining areas designed for relaxation and convenience, along with the innovative concept "EVERYDAY Grab & Go," a first at Robinson Lifestyle Shopping Center, Chalong Branch.
Fashion Carnival (Fashion Zone): Stay updated with new styles and shop for fashion and lifestyle products in a lively and enjoyable atmosphere.
Magic Carnival (Tech Zone): Explore the latest gadgets and tech accessories, complete with all the tech you need to stay connected. Moreover, it houses the first Major Cineplex branch in Phuket, equipped with the world's most advanced Laserplex projection system.
More Than Sustainable Community Development: The center committed to aligning with the local province's policies and enhancing the quality of life in the community. With sustainable efforts focus on three key areas:
Economic Empowerment: Support local SMEs and startups by providing retail spaces for local products, fostering business growth and income distribution.
Education Enhancement: Support educational programs like the "Funtastic English Class for Kids #2," providing resources and foreign teachers to local schools.
Environmental Responsibility: Prioritize green energy, install solar panels on rooftops, and use high-efficiency chillers to reduce carbon emissions.
More Than Design: With unique and community-centric designs that reflect the identity and lifestyle of Chalong residents. Experience the "Carnival Village" concept that adds vibrancy to the community and captivates tourists.
Don't miss the grand opening and exclusive promotions from September 20th – October 19th, 2023 at Robinson Lifestyle and Department Store, Chalong Branch.
Stay tuned for the first phase opening on September 20th, 2023, with full services starting from November 25th, 2023, opening daily from 10:00 AM to 10:00 PM.
Follow for more information on Facebook Fanpage: Robinson Lifestyle Chalong and Facebook Fanpage: Robinson Department Store for more updates!