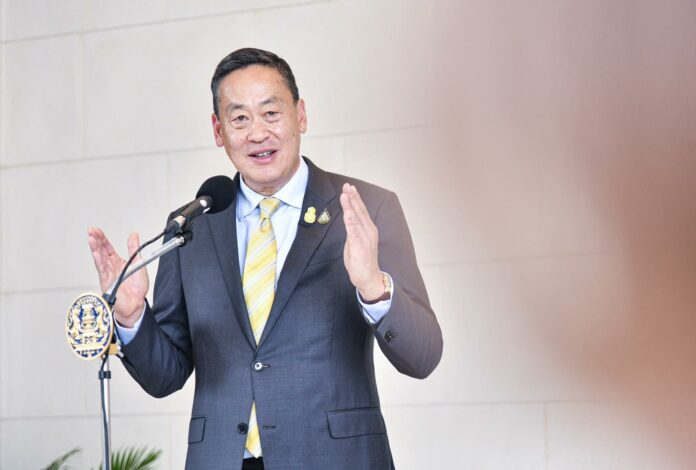 Thailand –
The new Thailand Prime Minister Srettha Thavisin said he does not agree with recreational cannabis use and sales while in a recent interview with a prominent Thai media outlet.
PM Srettha told popular Thai media outlet The Standard his opinion on Friday afternoon (September 15th) when a reporter asked if he agreed with the current "free" marijuana cannabis policy. The reporter was referring to the decriminalization of cannabis in June of 2022 which has since seen thousands of dispensaries, cafes, and marijuana shops open across Thailand, especially in tourist areas like Phuket and Pattaya. The plan was spearheaded by now Deputy Prime Minister and Interior Minister Anutin Charnvirakul, the leader of the Bhumjaithai party. Anutin's original plan was to pass regulation and laws around the use of the plant but this has been held up since by furious debate amongst politicians, many with polar opposite views around cannabis. Completely opposite views, like those of some who support full recreational use and those who are calling for the plant to be recriminalized, have led to intense and sometimes emotional arguments and as a result the plant remains in a grey status legally, but dispensaries and cafes keep opening around the country leading many to question what the next step is, with the sector estimated at 1.2 billion Baht in the near future and continued growth.
Srettha said in response to the reporter asking for his views "Cannabis being appropriate and beneficial for medical use has become very clear and we have to be fair to the Bhumjaithai Party leader who has now become my Deputy Prime Minister and is also the Interior Minister, Anutin Charnvirakul. He has never talked about his cannabis policy with me and has never asked me to help with it. The Bhumjaithai Party as a whole has never talked about this with me too. However, we fully respect each other."
The reporter also added that the legal cannabis policy was the main policy of the Bhumjaithai party but brought up the fact that many people were against it for a variety of reasons, including concern of the effect of the plant on youth. Srettha stated he did not support the use of marijuana for youth.
Srettha added that illegal drugs are one of the main problems of Thailand and less people are talking about illegal drug problems. Meanwhile, in rural provinces, illegal drugs are one of the main problems along with the cost of living Srettha said. TPN notes that methamphetamine, and not marijuana, was the major issue pointed to by most law enforcement as causing issues, although some politicians and individuals have claimed that cannabis could be a gateway drug to harder and more problematic drugs and that is why it should be banned for recreational use.
Srettha has said he does not agree with recreational cannabis and his government policy will be to pursue medical use only. How this happens with an estimated 14,000 and growing dispensaries open in Thailand now and a growing tourism market for cannabis is anyone's guess.
A recent lawsuit against the legalisation of cannabis in Thailand by the prominent anti-cannabis doctor Smith Srisont was dismissed earlier this week by the Thai supreme court, angering opponents of the legalisation of cannabis but pleasing many supporters.
Meanwhile, Anutin Charnvirakul has also said his policy is only medicinal use of cannabis but has also previously claimed that every cannabis shop in Thailand is providing only medical use currently. Many netizens on the ground disagree, claiming recreational usage is rampant.
This of course brings up the question of what exactly "medical use" of cannabis is, with some supporters claiming that using cannabis for stress, high blood pressure, back pain, headaches, insomnia, anxiety, and other fairly minor health issues would be a valid medical reason.
For now, the Thai cannabis industry and users can only wait and see what will happen in the future. One thing is certain, the new Thai government has vowed not to reclassify cannabis as an illegal narcotic again and bring back strict jail time and fines for use, so it remains uncertain how they will regulate the industry while supposedly preventing recreational use.
The original version of this article appeared on our sister website, The TPN National News, owned by our parent company TPN media.