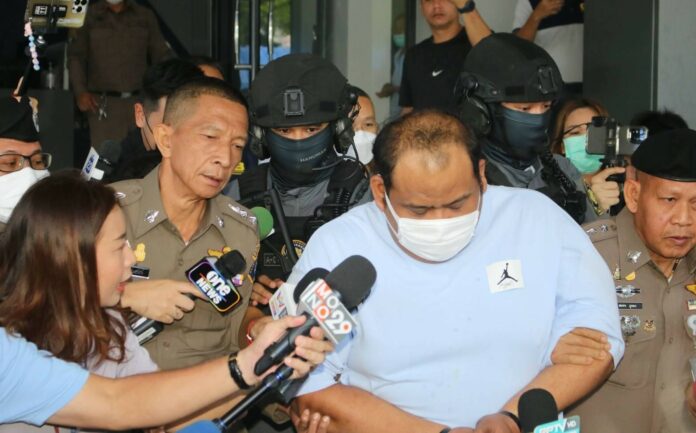 Nakhon Pathom —
Forensics officers have managed to recover footage from 13 of the 15 CCTV cameras at a sub-district headman's residence, where a Thai highway police officer was allegedly shot dead by the headman's right-hand man for refusing to illicitly promote his relative.
First our previous story:
The commander of a murdered highway policeman, Pol. Maj. Sivakorn Saibua, has reportedly shot and killed himself at a private residence in Pathum Thani Province, after being accused of calling the now deceased Pol Maj Sivakorn to attend the suspect's dinner party.
Now for our update:
National Deputy Police Chief Pol Gen Surachate Hakparn on Thursday, September 14th, held a press conference to reveal the progress of the investigation into the murder of Pol Maj Sivakorn Saibua, a highway police officer who was shot dead by the right-hand man of an influential sub-district headman, Praween Chanklai, aka "Kamnan Nok".
Pol Gen Surachate said new and strong evidence has been found on the retrieved CCTV server that was dumped into the canal by Kamnan Nok's staff in an attempt to destroy evidence.
The sub-district headman's premises house 15 CCTV cameras, with 13 of them already having been restored.
The data showed clear visions and audio of the guests, most of whom were police officers, during the dinner party where Pol Maj Sivakorn was killed.
Pol Gen Surachate said that the restored footage provided useful information on the murder, but he refused to give the details to the press due to potential impact on the investigation.
Initially, all the officers who were in custody for their presence at the party but failed to apprehend the gunman were found to have provided testimonies that conflicted with the evidence in the footage.
The video also clearly showed that Kamnan Nok was the one ordering the shooting, according to Pol Gen Surachate. He also confirmed that the killer was Kamnan Nok's bodyguard, Thananchai Manmak, who is deceased after being shot during a shootout with arresting officers.
Pol Gen Surachate said additional charges will be filed against the detained police officers for false statements.
Other important matters that needed to be investigated further are the financial routes of Kamnan Nok and construction project bidding that his construction company received from the state, and his tax history, the deputy national police chief said.
If found guilty, Kamnan Nok will be charged with money laundering and his assets will be confiscated.
The police are also interrogating an important witness – a security guard at Kamnan Nok's house, who was seen carrying a gun at the entrance of the premises.
The original version of this article appeared on our sister website, The Pattaya News, owned by our parent company TPN media.