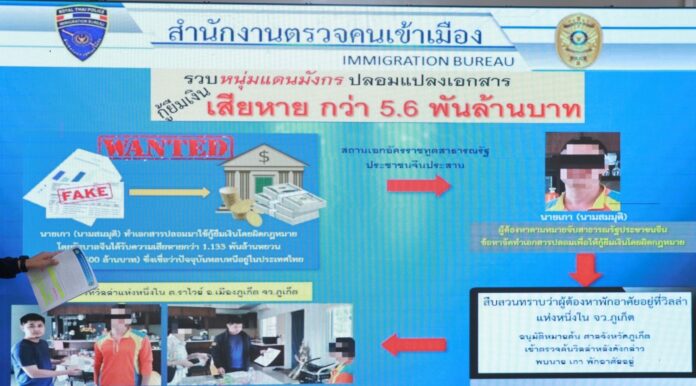 Phuket-
A wanted Chinese suspect who allegedly created fake documents to borrow money resulting in 5.6 billon Baht in damages was arrested in Phuket.
Phuket Immigration told The Phuket Express that earlier this month they were notified by the Chinese Embassy about a wanted suspect identified only as Mr. Gao, 55, a Chinese national, who is accused of producing fake documents to borrow money which has allegedly resulted in financial damages of about 5.67 billion Baht. He had escaped to Thailand.
The Immigration Bureau found out that the suspect had entered Thailand via Phuket International Airport earlier this month on September 5th with a THAILAND PRIVILEGE CARD (PE). He was allowed entry to stay in Thailand until September 3rd of next year.
Phuket Immigration found out that he was staying at a villa in Rawai, Mueang Phuket where he was arrested. He was staying with some of his relatives. He was taken to the Phuket Immigration Office for further legal action.
Mr. Gao did not release a plea or statement to the press about the allegations made against him.