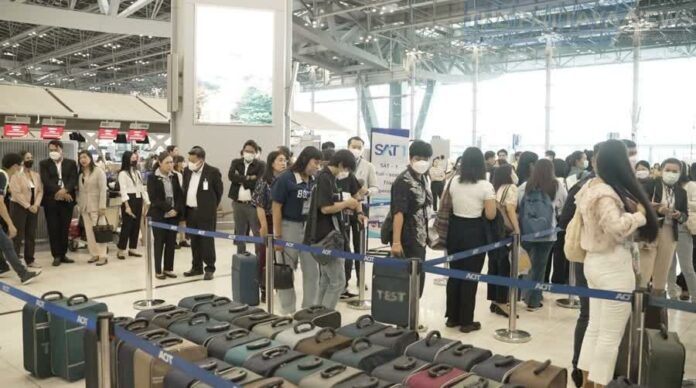 National —
The Thai Minister of Tourism and Sports, Sudawan Wangsuphakijkosol, cautioned against making sweeping assumptions about Chinese tourists visiting Thailand and claiming they all have the intention of exploiting the country and participating in illegal businesses and acts.
Sudawan's statement was made in response to concerns raised regarding the proposed three-month temporary visa exemption for Chinese tourists. Critics said that the free visa policy, initially proposed by PM Srettha Thavisin, would lead to more transnational crime involving Chinese nationals.
In particular, the concerns center around the fear that the free visa could result in an influx of Chinese people into Thailand, among whom could be operators of call center gangs, owners of illegal businesses, and other type of criminal entities.
The planned policy could also worsen congestion at immigration counters, and cause some Thai people to lose their jobs to certain Chinese individuals who secretly seek to exploit the policy to their own benefit.
However, Minister Sudawan responded that the Ministry of Tourism and Sports will rigorously enforce the law to eliminate all types of illegal businesses, whether they are run by Chinese nationals or others. She did not, however, give a clear plan on how they would do this.
She further emphasized the importance for this policy of reducing visa requirements for the Chinese because Chinese tourists make up a large portion of the country's tourism revenue, with over 2.23 million arrivals since the beginning of this year and 100 billion Baht generated.
The minister lastly warned against assuming that every Chinese tourist is here to engage in unfair competition with Thai businesses or to conduct illegal activities. If any wrongdoing is discovered, the law will be enforced rigorously, she once again said, but again not clarifying exactly how.
"In cases where individuals with ill intentions come in the guise of tourists, the Tourist Police have measures in place to combat and apprehend them." The Minister concluded.
The Thai Cabinet is set to make a final decision on the Chinese visa proposal this week, which is nearly certain to be approved.
This article originally appeared on our sister website The Pattaya News.