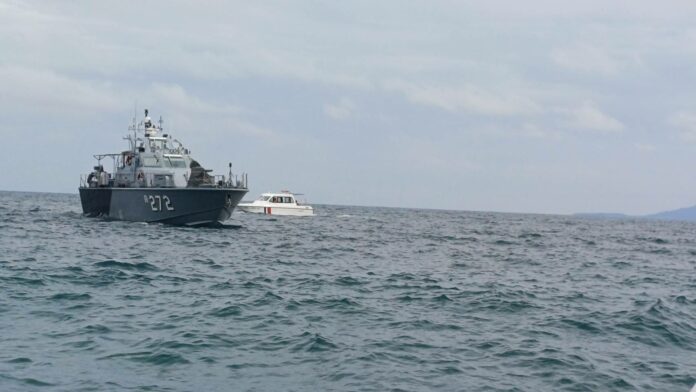 Phuket –
One person was found dead, one is still missing, and two people survived after a boat battled with strong waves in the sea at Rawai, Meuang Phuket.
The Royal Thai Navy Third Area Command told the Phuket Express that they were notified that a local boat had capsized near 'Aew Island' on Sunday afternoon (September 10th).
The two survivors are Mr. Rojjanasak Sueathom, 45, and Mr. Rbeebeen Tummalee, 46. Mr. Witthaya Malila, 52, was found dead, and Mr. Wisit Songkhun, 44, is still missing.
Mr. Rojjanasak told The Phuket Express "We went out into the sea at 10:00 A.M. in the morning on a long tailed fiberglass five meter long boat for fishing. Mr. Wisit was the boat's captain. We were about 30 meters away from Aew Island when we stopped to fish."
"At noon approximately three meter high waves started to hit the boat continuously. Water leaked into the front of the boat. We tried to get rid of the water from the boat but failed and the boat began to sink. Mr. Rbeebeen, who is a strong swimmer, swam back to Aew Island with a fishing rod which took about ten minutes to try to get help." Rojjanasak continued.
"At this point all three of us remaining were floating in the sea. Mr. Wisit said he was too weak to survive before he sank under the water. After that, Mr. Rbeebeen used the fishing rod and fishing line to help pull me back to land."
"Meanwhile, I was holding Mr. Witthaya's hand. He was holding onto a foam box floating in the sea. I tried to pull him to safety but a large wave hit us and my hand broke loose from him. Mr. Rbeebeen and I tried to look for him but failed before we swam to land and called for rescuers."
Mr. Witthaya was found dead when rescue teams arrived and Mr. Wisit was still missing as of press time. It was unclear if the men were wearing life jackets.