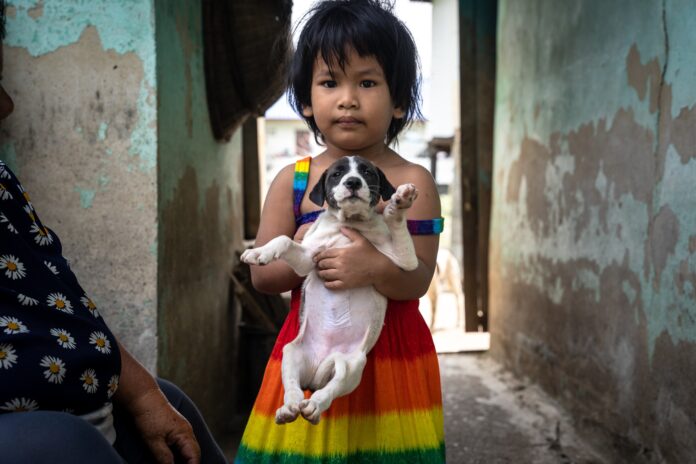 PRESS RELEASE:
The need for children to be protected from exposure to violence against animals has been officially adopted into the United Nations Convention on the Rights of the Child (UNCRC), elevating animal rights into the human rights domain for the very first time.
In the recently published General Comment No. 26, under the 'Right to freedom from all forms of violence (art. 19)', the UNCRC now reads: "Children must be protected from all forms of physical and psychological violence and from exposure to violence, such as domestic violence or violence inflicted on animals."
This is the first time that animal abuse has been referenced in a legally binding Human Rights Charter of the United Nations. All 196 nations who are signatory to the UNCRC – which sets out the civil, political, economic, social, health and cultural rights of children – are strictly obligated to comply.
Thailand-based animal welfare organisation Soi Dog Foundation has hailed the inclusion as a groundbreaking moment for animal welfare around the world and stated its firm intention to hold the necessary governments to account as part of its continued campaigns to combat animal abuse.
In May, the foundation published a report into the dog and cat meat trade in Vietnam which demonstrated the inextricable link between animal-directed violence in society and its adverse psychological impact on children exposed to it.
Conducted by professors from the Social Work Department of Vietnam National University in Hanoi, the report – known as the LINK Study – was presented to the United Nations for their consideration regarding the inclusion of animal rights in the UNCRC.
"Animal and child welfare experts highlight that government-sanctioned exposure of children to animal-directed violence may be a form of psychological violence against the youth themselves," reads the LINK Study's summary.
"There is evidence – across countries – which demonstrates how cruelty can adversely impact not only the animals as victims, but also individuals and the larger community. Therefore, if governments choose to ignore or condone exposure to violence, despite having knowledge of the dire psychosocial consequences for youth exposed to animal cruelty, it can be argued their actions – or inactions – may constitute a violation of basic human rights," it continues.
The European Link Coalition, which has long campaigned for an awareness and understanding of the link between animal abuse and human violence, also expressed its satisfaction with the inclusion and urged governments to create effective laws that protect children and animals accordingly.
"Countries which seek to manage homeless animal populations by killing animals in public must cease these practices. Children must be prevented from attending bullfighting and similar traditions. Children should not be taken trophy hunting. No child can be allowed to attend animal sacrifice traditions. Child participation in the cat and dog meat Industry, must cease," said the coalition.
"Millions of animals can now be protected and an unimaginable number of children will no longer learn that violence is normal and their compassion and empathy for all other living beings will be preserved and protected," it added.
The preceding is a press release published with full permission and authorization by the organization(s) listed in the PR material and TPN media. The statements, thoughts, and opinions of the organization involved in the press release are entirely their own and may not necessarily represent those of TPN media and its staff.