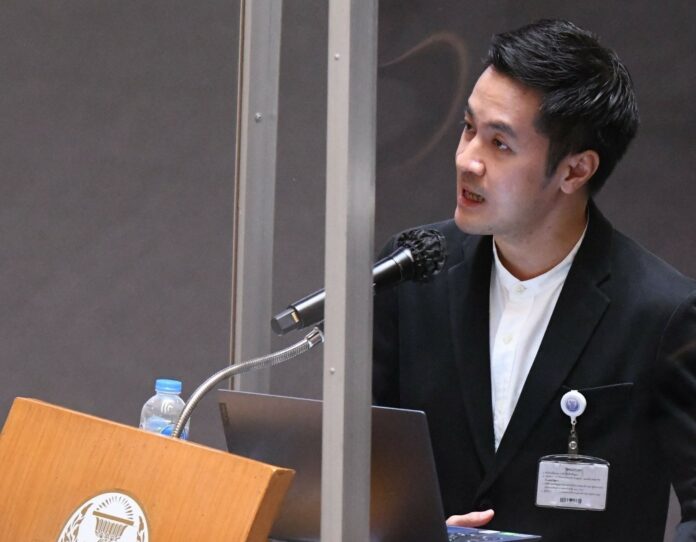 PRESS RELEASE: 
Deputy House Speaker Padipat Suntiphada has expressed his willingness to resign from his position if the Move Forward Party, to which he belongs, assumes the role of leading the opposition in the House of Representatives.
Previous stories:
Padipat Suntiphada, the second deputy speaker for Thai Parliament, is in hot water again after he was accused of misusing state funds to throw a mookata (Thai BBQ) party for parliament workers.
Deputy House Speaker of the Thai Parliament Padipat Suntiphada from the Move Forward Party may be in trouble for violating this law after he shared a photo of himself holding a can of what he said was a craft beer from his home province Phitsanulok, north of Thailand.
Now for the update:
Padipat's current role was secured when Move Forward was still attempting to form a coalition government with the Pheu Thai Party and other smaller parties.
Following a shift in circumstances that placed Move Forward in the opposition due to Pheu Thai's decision, the party is now eligible to lead the opposition due to its possession of the most MPs among opposition parties. However, House regulations dictate that the opposition party cannot hold the positions of House Speaker or Deputy House Speaker simultaneously.
Padipat affirmed his readiness to welcome the decision of the Move Forward executive board and step down from his position if the party leads the opposition. Despite the new circumstances, he asserted his intention to remain neutral in his role, ensuring fairness in House meetings for both government and opposition members.
Padipat's attire also came under scrutiny during a House meeting, drawing reprimands from Pheu Thai MPs for not wearing a necktie while chairing the session. The debate about his clothing choice was eventually cut short by Padipat, who defended his attire as appropriate for the occasion and vowed to be more careful in his dress for future meetings.
Amidst the discussions, another Pheu Thai MP proposed establishing a committee to study proper attire for MPs and senators, but Padipat redirected the focus to more substantive matters, highlighting the presence of the public observing the proceedings.
The preceding is a press release from the Thai Government PR Department.