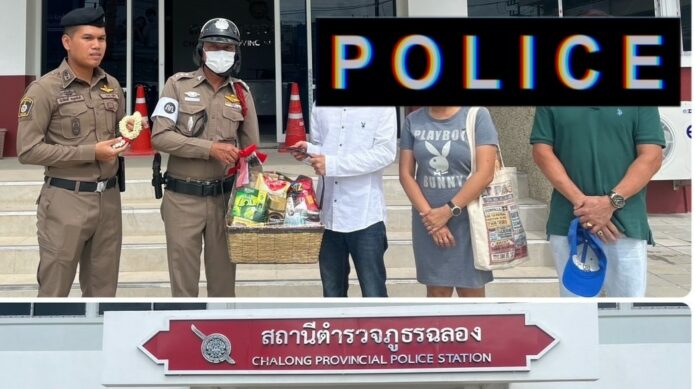 Phuket –
A social media user has faced a defamation charge after he posted on social media when he saw police stopped foreign riders and fining them for allegedly breaking traffic rules on a road in Chalong.
The Chalong Police told the Phuket Express that on Monday (August 21st), a Tik Tok user posted a video clip with a message stating, "Chalong Police want money from everyone." The video clip showed foreign motorbike riders being stopped and fined by the Chalong Traffic Police after they allegedly broke undisclosed traffic rules.
The Chalong Police told the Phuket Express after the incident went viral on social media that the Tik Tok user voluntarily came to the Chalong Police Station after hearing police wanted to speak with him.
The man faced charges of defamation by advertising and defaming police officers while they were on duty. The man apologized and said sorry to the traffic police in a new video clip.
However, the Chalong Police said they are still continuing with legal action against the man. The Phuket Express noted police did not reveal the man's name and age. It is not illegal to record officers in public, as a note, but the issue police had was the negative statement and inferences by the user when Chalong Police stated the officers were only performing their jobs and stopping traffic offenders, which keeps the streets safer for all.