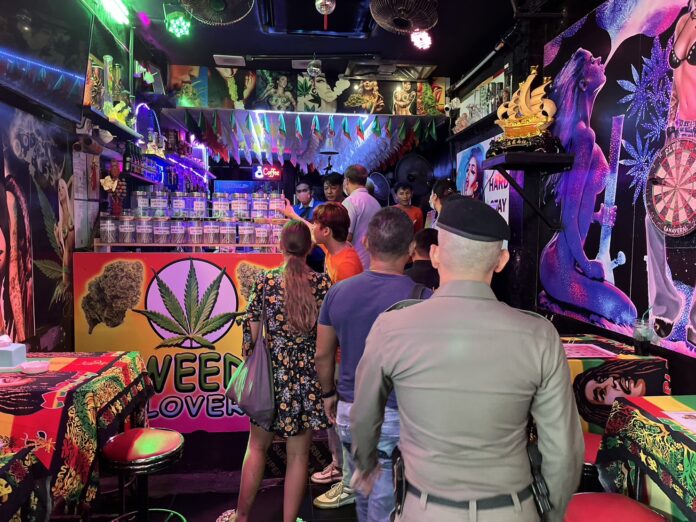 Phuket –
Legal action is being taken against 13 unlicensed cannabis shops in Phuket and 18 cannabis shop licenses were paused.
Our previous stories:
The foreigners in the video clip were making content promoting a new but unidentified cannabis shop near Phuket International Airport in Thalang which has just been opened.
A 49-year-old American tourist apologized after a video clip of him using a machine to blow cannabis smoke across Bangla Road went viral on social media, leading to intense debate around cannabis and cannabis rules and regulations.
Now for the update:
The Phuket Provincial Public Health Office Chief Doctor Kusak Kookietikun told the Phuket Express on Monday (August 21st). that legal action was being taken against 13 cannabis shops which were unlicensed.
Of these, nine shops are in Kathu, two shops are in Mueang Phuket, and two shops are in Thalang. The cannabis shop owners are facing fines of up to 20,000 baht or imprisonment of up to one year or both.
There are 18 cannabis shops which are having their licenses paused for 30 days. Of these, 11 allowed cannabis smoking inside, 1 cannabis shop was on a footpath, 3 cannabis shops were advertising, and 3 cannabis shops had complaints from concerned citizens.
These inspections followed the viral clip and incident mentioned above of an American tourist spraying cannabis smoke on Patong Road to promote his cannabis shop in America.