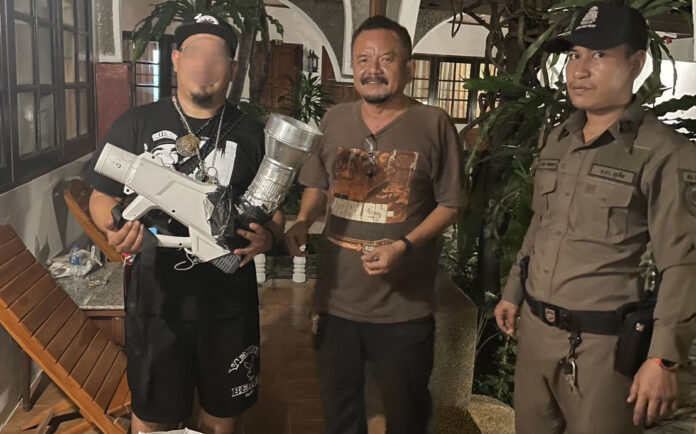 Patong –
A 49-year-old American tourist apologized after a video clip of him using a machine to blow cannabis smoke across Bangla Road went viral on social media, leading to intense debate around cannabis and cannabis rules and regulations.
Our previous story:
The foreigners in the video clip were making content promoting a new but unidentified cannabis shop near Phuket International Airport in Thalang which has just been opened.
Now for the update:
The Patong Police Chief Colonel Sujin Nilbody told the Phuket Express that on Saturday (August 19th) they went to an unidentified hotel near the Bangla Road where the man was residing. Police explained to the man that his behaviour was unacceptable in public and that the act had shocked many Thai people, hurting the image of family friendly tourism on Bangla Road.
You can see a video of the stunt on our Facebook page by tapping or clicking here.
The tourist told police that he did the content to promote his cannabis shop abroad and that he was not a business owner in Thailand. The tourist apologized and said, "I am very sorry for what I have done I did not know the rules, I still love Thailand. I thought cannabis and anything associated with it was fully legal." The tourist has already left Thailand.
The Phuket Express noted that police did not name the tourist. They also did not state about any possible legal action taken against the tourist.
A previous statement made by Weerawit Krueasombat, the president of the Patong Entertainment Business Association, claimed that the American foreigner in the video clip was making content promoting a new cannabis shop near the Phuket International Airport in Thalang, but not on Bangla Road.
The tourist denied this claim, although debate was continuing on social media if local shops were possibly behind the stunt and the tourist took the "heat" to avoid any potential legal ramifications or crackdowns on Phuket cannabis shops.
The stunt was widely criticized on Thai social media, with some critics even calling once again for cannabis to be entirely re-criminalized and banned. However, moderate critics, including many pro-cannabis activists, said the stunt showed that laws pending proper regulation of cannabis needed to be passed through Parliament sooner than later as the current legal status of cannabis made it difficult to enforce rules and regulations. These pro-cannabis activists said banning the plant again was not the answer and that marijuana just needed thoughtful regulation with feedback from both cannabis shop owners and government officials.