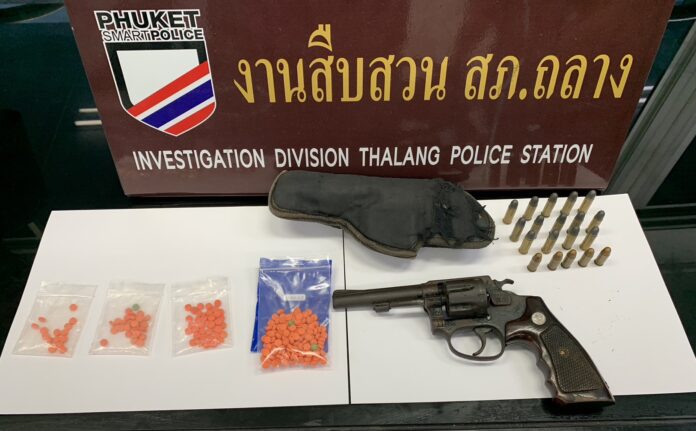 Phuket —
Phuket police have arrested six individuals in an extensive crackdown on illegal drug trading, firearm possession, and theft in the province over this past weekend.
The first arrest was made following multiple theft reports across the Chalong and Rawai area in the Muang District of Phuket.
Under the leadership of Chalong police chief Pol. Col. Ekarat Plaiduang, the police have consecutively cracked five theft cases during this past weekend, including an electrical cable theft reported on August 10th, a wire theft on August 9th, the theft of tools and an equipment box on August 9th, a property theft with damages worth 17,500 Baht on August 15th, and another wire theft.
None of the suspects' identities were released to the press. They were in police custody for various offenses.
Moving on to another arrest, Thalang police swooped in on a drug and gun suspect hiding in the Thalang area on August 19th.
At a subsequent press briefing organized yesterday, August 20th, police identified the suspect as 35-year-old Mr. Surakit "Joke" Morat. They confiscated from Joke a Smith & Wesson .32 revolver, 19 bullets, and 234 tablets of amphetamine.
He was charged for unauthorized possession of firearms and drug offenses.
Phuket police pledged to continue their campaign to eliminate crime in the province.