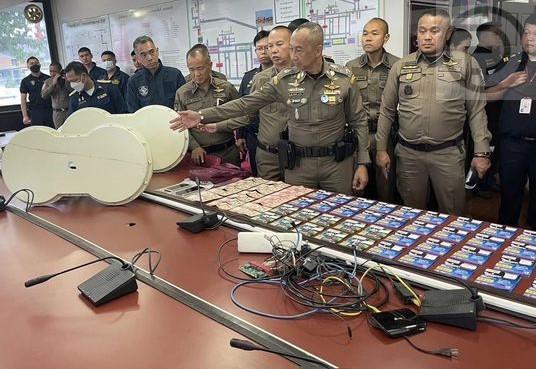 PRESS RELEASE:
The Royal Thai Police and the National Broadcasting and Telecommunications Commission (NBTC) are cracking down on unauthorized communication antennas that have enabled call center gangs across the border to utilize Thai mobile phone and internet services.
Police Deputy Commissioner Pol Gen Torsak Sukvimol led police officers on an inspection of unauthorized radio communication stations in Aranyaprathet district of Sa Kaeo province. Officials also inspected licensed stations that breached the conditions required of them, such as by turning radio transmitters toward Cambodia. A total of 27 communication stations were inspected.
The move was in response to investigators having discovered that most call center gangs were operating from the Thai-Cambodian border and were using telephone and internet connectivity from Thailand.
Four of the inspected stations were deemed to have set up operations without authorization. Their radio antennas were also found turned towards Cambodia. Officials disassembled and seized the equipment involved in the activities and are proceeding with the prosecution of those involved.
23 of the stations inspected had licenses but the sector panels on their antennas were turned towards Cambodia. The license holders have been ordered to quickly rectify the set-up of their antennas, either by removing them or turning the sector panels toward a direction that would not result in signals being broadcast outside Thailand.
Pol. Gen. Torsak reminded the public that criminals were constantly adjusting their methods of extracting information from victims. Very often, scam callers would make references to state agencies when they are contacting potential victims, in an effort to seem more credible. Those unsure about calls made allegedly from public agencies should make direct inquiries to the agencies or call the hotline number 1441.
The preceding is a press release from the Thai Government PR Department.