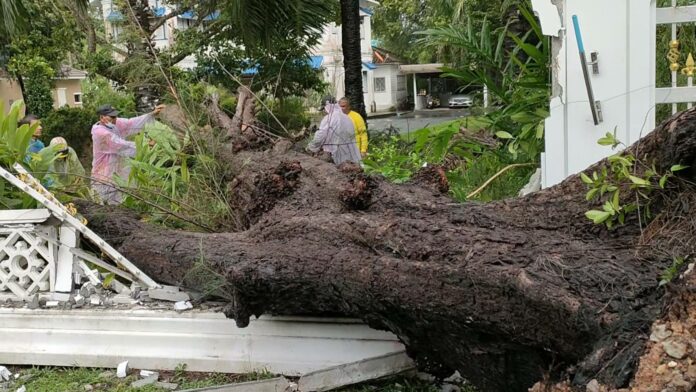 Phuket –
A 50 year old tree fell in heavy rain and winds yesterday at the Phuket Provincial Permanent Secretary's residence which is near the Governor's mansion. Luckily, nobody was injured
On Monday (August 14th) strong winds and heavy rain hit across Phuket. Some areas including Samkong and Rassada, as well as Mueang Phuket suffered from minor flooding.
The huge pine tree, aged more than 50 years, was knocked down by strong winds. The tree hit the fence of the Phuket Provincial Permanent Secretary's residence. No injuries were reported.
Authorities cut up the fallen tree before removing it from the area and the fence is being repaired as of press time.
The Southern Meteorological Center (West Coast) issued a warning on Monday (August 14th) for heavy rain, strong winds, and high waves for the Andaman area including Phuket.